Tips and Tricks for Getting Your Family Outdoors, Active and Healthy
Spending family time outdoors is fun, invigorating and easy to do. So why can it feel like such a daunting task? Maybe because between work, school, after-school activities and social commitments, it's hard enough to get the whole family together for dinner, let alone for some kind of outdoor adventure. Or maybe because modern life involves so much sitting inside in front of screens that it's tough to rediscover that indoor/outdoor equilibrium. However, we have some tips & tricks below that will aid in getting your family outdoors to be active and healthy, and happy!
Whatever the reason, there's no question that outdoor activity is essential for healthy kids (and adults), bolstering our physical, social, intellectual and emotional well being. Studies show that reversing nature-deficit disorder—spending time outdoors and limiting screen time in the process—comes with a whole range of measurable health benefits, including decreased anxiety, depression, stress, blood pressure and the risk of diabetes, as well as improved concentration, creativity and other cognitive functions.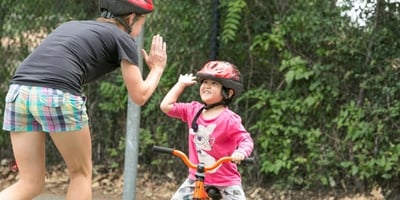 Beyond making their bodies and minds stronger, being active and healthy outdoors is simply really good for kids' development as they grow into adults. It's a great way for them to connect to their families, peers, local communities and the natural world at large. It helps them build emotional intelligence and become kinder people. It also builds character. When kids adventure outside, they face challenges, and with them, opportunities to take positive risks. And as they think critically about new situations and master new skills, they build confidence, independence and grit—skills they'll draw on in the outdoors and all other aspects of their lives.

In short, getting your family outdoors is important. And doing it as a family is a great way to spend some screen-free time together as you teach your kids an active and healthy, lifelong habit. But now that you've realized why it's so important to get outside as family, how do you go about it? Here are a few tips & tricks to you get started:
Lay the groundwork: Before any kind of outdoor adventure, talk to your kids about why they think getting outside is a critical part to their health. Get their input on what activities they want to try and what local recreation areas they want to explore. Ask them what they're excited for and if there's anything they're nervous about.

Review Leave No Trace principles

and ask them how your family can help protect the natural world on your outing. The more involved your kids are in thinking through your adventure, the more likely they are to embrace it.
Plan your adventure: Beyond picking your destination (more on that below), there's plenty of planning that goes into outdoor activity—brushing up on the skills you'll need, packing the right gear and supplies (more on those below, too), accounting for any contingencies—that could be the difference between an amazing day and a disappointing one. If you need a little help getting started, we've compiled some essential tips and tricks for

hiking with kids

,

biking with kids

and

skiing with kids

that are sure to come in handy as you plan for any adventure.
Keep things in perspective: Most importantly, remember that being active outdoors doesn't need to be an all-or-nothing proposition. If you can't take a huge, awesome trip to Yosemite or Everest, or even find the time to drive to a local recreation area over the weekend, there are still plenty of

ways to get outside

(that deliver a lot of the same benefits outlined above). From taking an evening walk or bike ride around the neighborhood to gardening or camping in your own backyard, there's always time and opportunity for a little outdoor activity every day.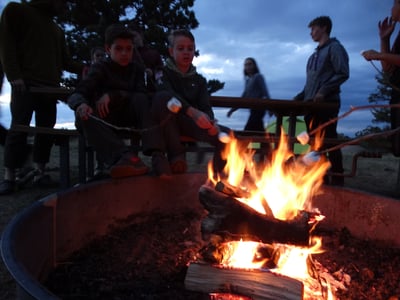 We've talked about why it's important to get your family outside and how to approach the challenge—now it's time for the what. As in, what exactly do you need for your outdoor adventure? Here are the basics:
A destination (and details about it): Outdoor adventures can happen anywhere, from the most modest backyard to the grandest national park. If you're in Colorado or California, there are plenty of incredible options just a stone's throw away. And fortunately, we're experts on local recreation areas in the Front Range and

the San Francisco Bay Area

, with lots of recommendations—and plenty of helpful specifics—for places to pursue every activity at every level.
The right gear: While the "room to grow" approach might work for clothing, it's not a great plan when it comes to outdoor gear. Kid-specific equipment is essential for keeping your kids safe outdoors, as well as making them feel successful (and confident!) as they adventure. Check out our tips for finding backpacks, hiking shoes and bikes to fit kids of all sizes.
Plenty of sustenance: No matter the activity, weather or terrain, bringing plenty of water for everyone in your family is absolutely essential. Beyond that, be sure to pack easy-to-eat, on-the-go natural snacks with enough nutrition to fuel you and enough yumminess to treat you. We like

Kind Snacks

(especially their Kids bars) and

Honey Stinger

, both of whom just happen to be Avid4 Adventure partners.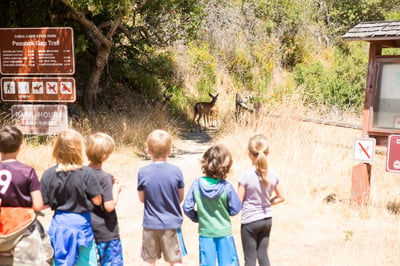 Spending time outdoors with your family—and enjoying the many benefits that come with it—doesn't have to feel like a chore. With a little advanced planning and some help from your local adventure camps, an active, healthy lifestyle for your whole family is right around the corner.
What are your tricks for getting your family outdoors? We'd love to hear from you - post your comments below!
Learn more about our camp programs today: