When you're teaching a child something new, one of the most important things you can do is provide a positive introduction to the sport.
Here are 5 Tips & Tricks for Skiing with Kids to make your winter family adventures more fun for the whole family.
1. Dress Kids for Skiing in Breathable Layers
Dressing for skiing can be tricky. You want everyone to stay warm, but not get overheated. And, you want to be able to move around easily. The best way to dress kids for skiing is to use layers. According to blogger, Brave Ski Mom, "The key to staying warm is staying dry." Check out her layering tips here.
Start with a thermal underwear baselayer, then add a midlayer or insulating layer, such as a fleece, and then a waterproof jacket and waterproof pants. You'll also need:
Kids Ski Helmet
Goggles (make sure they fit well with the helmet)
Ski Socks
Waterproof Gloves or Mittens
Sunscreen
You may also want to bring:
Neck Warmers to protect their face from wind and blowing snow
Glove Liners or Hand Warmers for really cold days
unglasses
Here are some great tips on layering from WinterKids.com:
2. Try on Clothing and Equipment at Home First
Before you leave, make sure you check everyone's equipment at home first. This way, you won't realize that you're missing a mitten or that your child has grown out of something after it is too late.
Does everything fit right?

Is it comfortable?

Do you have everything they'll need?
3. Pack Portable, Healthy Snacks
Skiing takes a ton of energy. Make sure to pack lots of healthy snacks to keep your child energized. Here are a few of our favorite, pocket-friendly chairlift snacks:
CLIF Kid Zbar® is an organic, baked whole grain energy snack, made with a blend of carbohydrates, fiber, protein, and fat to give kids energy. They have several flavors to choose from, such as Oatmeal Cookie and Chocolate Chip.
Skratch Labs Cookie Bars are incredibly delicious and healthy. They're also easy to pack. I was skeptical at first too, but click here to learn more about why these make a great ski snack. You can find the recipe in the Skratch Labs Feed Zone Portable Cookbook, or buy the Cookie Mix online. The Feed Zone cookbook also has a great PB&J Rice Cake recipe that my kids love too and is easy to pack.
Honey Stinger Organic Energy Chews and Organic Waffles provide all natural sports nutrition and kids love the taste. They offer several gluten free options.
4. Make it Easy
You'll want to make their introduction to skiing as easy as possible. Find terrain that is wide-open, with as few obstacles as possible. There are several tools you can use to help kids learn to ski, such as an Edgie Wedgie. This device connects kids' ski tips so that it's easier for them to form a wedge, or "pizza" with their skis. You can also use a Hula Hoop to help your child stay upright while you hold on.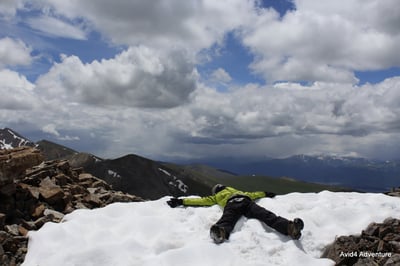 Another way to make it easy for kids to learn to ski is to find a program where they can learn the fundamentals first. If you live near Boulder or Lafayette, check out Shredder's Indoor Ski and Snowboard School. Shredder enables kids to develop their ski and snowboard skills in a comfortable, social, and safe environment. Built around PSIA-AASI principles, their philosophy is to guide new skiers and snowboarders through skill progressions to build confidence, knowledge, and proficiency. They focus on developing the strength, agility, and athleticism that kids need to enjoy the sport independently. There are lots of programs in Coloradothat teach kids to ski, let us know yours!
5. Put fun first
Finally, make sure you put fun first At Avid4 Adventure, we love introducing kids and teens to the power of outdoor adventure. One of core values is to, "Live Fun." We believe that being outdoors creates joy. We support kids and teens, their families and our peers to adventure exuberantly out in the world. Additionally, we take our Core Values seriously and as a team try to get outside, no matter the season, to enjoy the outdoors!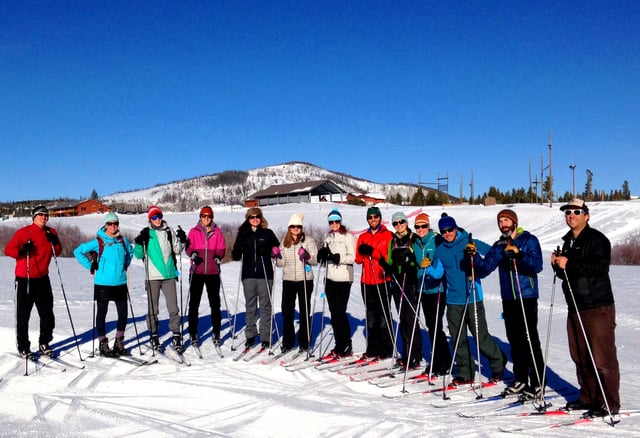 While every moment of your adventure might not be perfect, just remember how important and valuable it is for kids to experience the outdoors.
About Us
At Avid4 Adventure, we teach every kid—from first-time adventurers to experienced athletes, from pre-K through 12th grade—how fun and empowering being active outdoors can be. As they hike, bike, climb and paddle, kids build lasting skills and newfound confidence, igniting a passion for being active that lasts their whole lives.