5 Tips to Help Limit Screen Time for Kids
We know our kids spend too much time looking at screens. And the negative effects of all that screen time for kids—from decreasing their ability to concentrate to increasing their risk of type 2 diabetes—are well documented. So how do we help our kids unplug and do something we know is great for them instead? Well, you could start by checking out our empowering summer camps where we help kids choose active, outdoor lifestyles.
We've also got some more suggestions for how to get active outside while limiting screen time for kids. Are you up for the challenge?
Set a good example: As Joshua Becker's Becoming Minimalist post on the subject points out, this is definitely the hardest part. We adults spend a whopping four hours a day on our mobile phones, so we have a lot of work to do to if we want to be good technology role models. But kids tend to do as their parents do, so the better we are at putting our phones down and heading outdoors, the better our kids will be at following suit.
Create the right environment: Keep TVs out of your bedrooms. Make meals and car trips screen-free time. Charge everyone's devices together overnight away from where people sleep. Make sure kids have access to a natural environment—whether it's right outside in your backyard or away on a weekend camping trip—and make sure they know it's okay to get dirty. As one internet addiction specialist explains, it takes both "a rich outdoor environment and limited technology indoors" to keep kids healthy and active. Limiting screen time for kids can be difficult, but it can be done!
Get outside together: Your kids may not feel all that comfortable playing outdoors at first. That's where you come in. Take them on a walk along your favorite route. Explore a new park or recreation area together. Pass along some tree-climbing tips. Once they get the hang of screen-free play, their potential for outdoor adventure is endless.
Take a social media break: Make a family pact to spend a day, a weekend or even a whole week away from social media. Talk about how it feels to experience the beauty of the outdoors—and the joy of spending time with each other—by simply being present in it, without perfecting the view through your phone camera or narrating it for your followers. Limiting screen time for kids allows them to become more aware of the role it plays in their lives.
Embrace an old fashioned approach: Connect the way your parents connected with you. If you're going on a hike or a camping trip, start by sitting with you kids, looking at a map, plotting your trail and talking about what to bring—all without GPS or an app. (After all, people hiked long before Google Maps existed and lived to tell the tale.) If you're at home and your kids complain about being bored, tell them, as Jennifer Moses suggests in her Time article Unplug! Your Children Depend on it, to do what parents have been telling their kids to do for generations: go outside and play.
Whether it's a family bike ride after dinner, a weekend away in the wilderness, a geocaching expedition around the neighborhood or an hour playing outside, there are opportunities for outdoor fun—no technology required!—everywhere you look. With a little effort (and some tips from your friendly local adventure camps), you really can disconnect from your devices and reconnect with nature—and your family.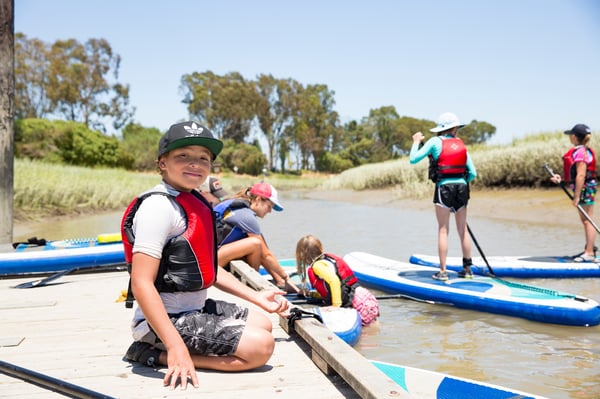 Do you need resources to help your kids choose an active, outdoor lifestyle? We can help! Our summer day and overnight camps provide an inclusive environment for kids to develop skills that launch them into a lifetime of empowering adventure. They help kids build confidence in sports they can return to for life like hiking, mountain biking, rock climbing and kayaking. Many kids enter our programs having little to no outdoor experience but in as little as a week, they face their fears and undergo serious transformation. Click the button below for more information on our programs for pre k -12th graders.