Sleeping under the stars, disconnecting from technology, connecting with the outdoors, making new friends, building skills in outdoor sports, making memories that last a lifetime — these are some of the things that campers who go on Avid4 Adventure Expedition Overnight Camps have to look forward to.
Available for 5th - 11th graders, Expedition campers sleep in tents each night and adventure each day. In addition to enjoying their remarkable surroundings and practicing their sport (or sports) of choice, they develop skills in everything from cooking outdoors and gear management to teamwork and problem solving. Expeditions are for kids and teens who crave a genuine experience outdoors in a small-group setting. These eye-opening programs provide campers the knowledge and confidence they need for future adventures (outdoors or otherwise).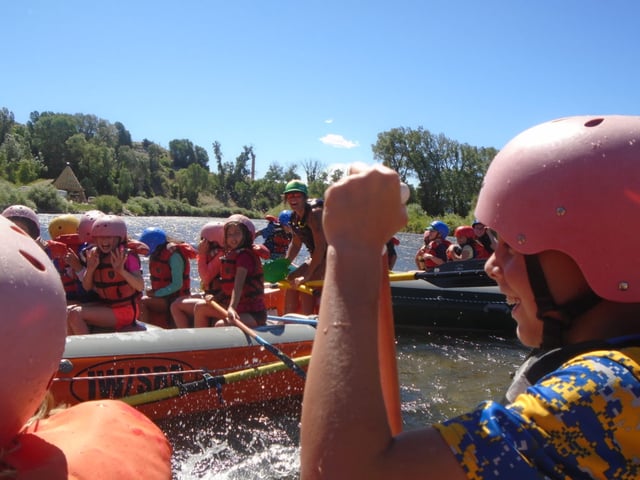 To learn more, watch the video or read the full transcript below.
Full Transcript:
Hi I'm Kyle Littman, COO at Avid4 Adventure and I'm so excited to introduce our brand new suite of programs within our Overnight Camps that we're calling Expeditions.
These are intended for kids who are really craving that week long experience in wilderness that maybe have done resident camp or maybe have not. These new programs are close to the heart for me because I come from an education background first — as a classroom teacher — and then I did 30 day field based programs for Outward Bound. I truly believe that one week wilderness experiences where you are not only out sleeping under the stars each night but you are also in a small group setting getting to know two mentors that are alongside you every step of the way are truly transformative experiences in kids' lives.
I designed these trips not only because I knew the power from my past work experience but also as a parent of a 4th grader and a 1st grader. I have the pleasure, at Avid4 Adventure, of creating programs that I want my kids and their friends to do over the next few years. What is really special about these programs is that they're away from the front country.
The 5th and 6th graders get to travel in the backcountry of Rocky Mountain National Park if they want to go backpacking or to Curt Gowdy State Park which has world class recreation just a couple hours from the front range for a multi-sport or mountain biking experience. In Staunton State Park located in Evergreen, Colorado they could spend the week rock climbing. As kids get older, they can explore other interests. The 7th & 8th grade middle schoolers get to go up to Steamboat Springs and have their own multi-sport experience up there or they could spend a week mountain biking or rock climbing. We also now have a one week program for high schoolers.
For busy parents, the thought of taking your child camping for one week and providing a different experience every day of the week — I know — it sounds great. The reality is, it just does not happen, not even for me. The fact that Avid4 Adventure now has these programs where I know my daughter will be off getting to experience things like stand up paddleboarding, rock climbing, bouldering and archery all under the incredibly watchful, inspirational eyes of our world class staff and making new friends in the process is truly exciting for me. It is great both as an employee of Avid4 Adventure and as a parent of daughters that are going to get to do these programs.
Of course there are a lot more details that I could share but please don't hesitate to reach out to our Customer Experience team at any time by email at info@avid4.com or by phone at (720) 249-2412 with questions (or visit our Help Center). Thanks so much for taking a couple of minutes to learn learn more about Avid4 Adventure Overnight Expeditions.
Kids and teens from Colorado, across the United States and from around the world travel to Avid4 Adventure Overnight Camps. To receive more information (including special discounts) on Avid4 Adventure summer Expedition Overnight Camps in California, Colorado and Oregon available for 5th-12th graders where campers have the opportunity to experience adventures like backpacking, rock climbing, mountain biking, whitewater rafting, camping, and more, click the button below.