We are thrilled to announce the exciting news that, in 2019, we've been ranked as one of Outside Magazine's Best Places to Work for the 4th year in a row. Paul Dreyer, Avid4 Adventure CEO commented saying, "We are again humbled to be on this list and to be in the company of so many other incredible organizations. It's an honor. It's also a testament to everyone who works with Avid4, both our full-time HQ team and our hundreds of seasonal instructors and camp directors. At Avid4, we try hard to create a great work environment—a container—but it's really our people who make it a great place to work."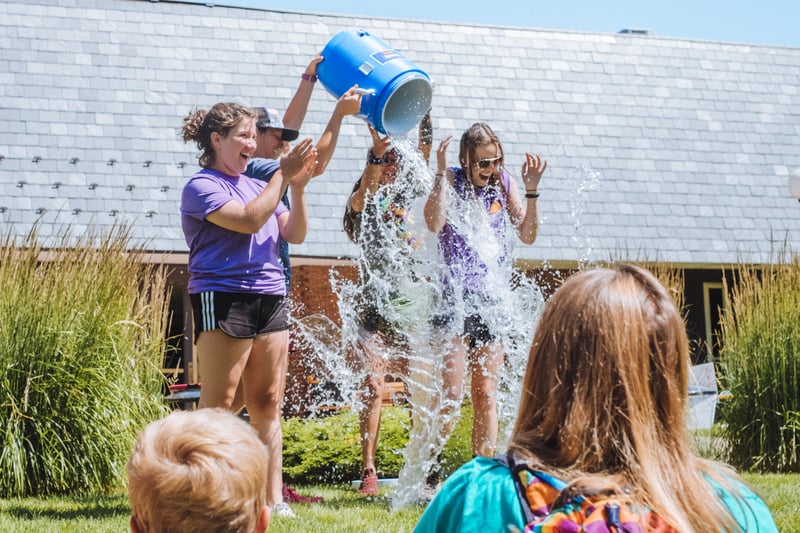 There are many reasons why we love to work at Avid4 Adventure but we'd also like to let our staff speak for themselves. Below are a few quotes from our remarkable staff from this past year.
What Our Staff HaVe to Say
"Year after year, I keep returning to Avid4 because of the incredibly high level of support and inspiration I receive from the staff. This is the kind of company in which you can expect to spend a day working as a team with other instructors to teach life-changing material to kids in the best classroom of all time, and then at the end of the day learn from your coworkers while, say, climbing together or while taking a free Avid4 course on whitewater paddling skills. The Avid4 company culture is a blend of professionalism and fun at its finest." —Hilary Terrell
"I am so very thankful to have found Avid4 for all wonderful reasons. I especially applaud all involved for a welcoming, loving and adventurous spirit—it's felt throughout the organization. The vetting process is superb. Each and every individual I have come in contact with has great energy. My heart is filled with gratitude and great admiration for so many wonderful friends I have made this summer. Each day was a truly an unforgettable adventure. Thank You!" —Justin Walker
"Avid4 is a company that is growth-oriented in all ways. Their mission is to see kids grow beyond their perceived limitations and to empower them to believe in themselves through challenging outdoor activities and connections made with other campers. But Avid also brings that same exact mission to their employees as well by challenging us beyond some of our own personal perceived limitations, which I found really empowering myself. I watched kids grow, week after week, but I also saw myself grow as an individual over the summer too. Not only that, Avid is about growing as a society on a whole by constantly learning how to improve, and incorporating ways to do things better, such as their inclusivity mission, which I'm really quite fond of because it is empowering for every kid and adult alike by promoting equality for all!"
—Melissa Lindbloom
Seasonal Staff Perks

There are some pretty cool perks to working at Avid4 Adventure in the summer months at camp. Here are a just a few:

You spend your days doing what you love—rock climbing, hiking, mountain biking, paddling, backpacking, all in the great outdoors in beautiful recreation areas.
You get to join a tight-knit community of outdoor adventurers. To kick off the summer for staff, we have a giant campout in Moab, Utah where new and returning staff have a blast climbing, biking, paddling and hiking. And that's just the beginning. Endless adventures abound for staff all throughout the summer.
The pay is competitive! Our staff are the key to our success and we want to find (and keep!) the best. Avid4 has created a compensation plan that takes advanced certifications, living wage and experience all into consideration. On top of that, you also earn professional certifications and get great discounts on gear through outdoor pro-deals.

Year Round Staff Perks

Beyond the average medical, dental and 401(k) benefits, Avid4 Adventure takes into consideration the lives of their employees, encouraging everyone to "Live Balanced." Some of the perks year round employees enjoy include:

Flexible time off.
Generous time off provided for new parents—both mothers and fathers receive this benefit.
Many opportunities for personal and professional growth—there's even a non-work related scholarship opportunity!

While the perks are pretty great, our purpose is much, much greater. Above all, working at Avid4 Adventure day and overnight summer camps or behind the scenes provides staff with the ability to make an impact with the work they do each day no matter what their job title may be. To inspire younger generations to choose an active, outdoor lifestyle through introducing them to a new sport, helping them step outside of their comfort zones and build confidence is a mission like none other. That may be why many staff who work for Avid4 Adventure are so familiar with that well known quote, "If you love what you do, you'll never work a day in your life."

We are now hiring for the coming season. Do you know anyone looking for a summer job in California, Colorado, Minnesota, Oregon or Washington that would love to inspire kids to choose active, outdoor lifestyles through adventure sports like hiking, biking, climbing and paddling? Send them the link below!