Each year, Avid4 Adventure awards an Adventure Grant to one returning outdoor educator by providing an opportunity of a lifetime: one roundtrip ticket anywhere in the world plus an additional $500 stipend for their dream adventure! Last year our winner, Katie Riley, chose to travel to New Zealand to hike, bike, paddle and ride horses through it's National Parks. The benefits of working for Avid4 Adventure make it way better than typical summer jobs.
Her winning video explains it all:
After Katie returned last Spring, we asked her to write about her trip and what she learned. This is her story:
4 Important Things I Learned in New Zealand -Katie Riley
It was April 29, 2017. Up in Estes Park, Colorado there was the threat of flurries, but we had nowhere to go. The 'we' includes the Avid4 Adventure Director team leading Colorado Day Camps for Summer 2017, and I'm feeling like the wallflower right now. Packed snugly into a cabin style conference room, we are a conglomeration of personalities and backgrounds that create a beautiful tapestry of leadership for summer camps that will stretch as far north as Boulder and Lafayette and as far south as Colorado Springs this summer.
Enter Kyle, our COO, a welcoming and warm presence to our crew for the weekend. Kyle has the most amazing skill placing seeds of inspiration into the minds of dreamers, and this encounter is no exception. Launching into a presentation of photos including his family on a trip to Mexico they had taken recently. The title to his picture book of colorful photos? Kyle's Important Things He Learned in Mexico. I just hoped that in the near future, I could do the same.
So as a response to that hope, I present to you: Katie's Important Things She Learned in New Zealand.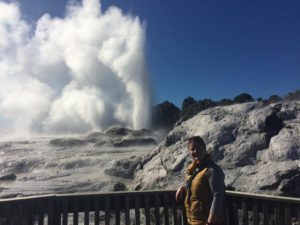 1. Travelling alone can tell you a LOT about yourself
Over the span of months between the awarding of the adventure grant and my departure for Middle Earth, conversations always discovered a roundabout way to this question: you're doing this alone? Yes. Yes, I am.
This always brought on one of four expected responses:
"Wow, you're brave," with the underlying flavor of "Wow, you're STUPID".
"Wow, you're brave," with the genuine starry eyed gaze of a fan meeting Wonder Woman.
"I could never do that" of the self-doubter.
"THAT SOUNDS SO GREAT" from the fellow solo travelers of the world.
I have always put myself into the 'strong, independent woman' category, where I often crave adventures that are at my own pace and on my own terms. I have completed solo drives that zig zag across the United States with fantastic memories and adventures because of this, and I wouldn't trade it for the world.
Travelling by myself is always a 're-set' button for me. I have the opportunity to reflect upon the things that are important to ME in my existence, rather than what society and culture might want to push on me. It reminds me that I love jazz music. That I strive to be a lifelong learner. That striking up conversations with strangers leads to light bulb moments more often than not. It reminds me that homesickness is so much more than just missing home.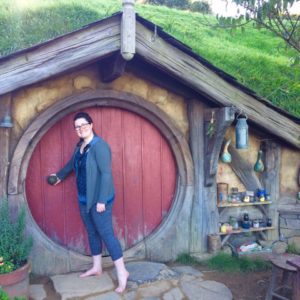 2. Enjoy the magic of unexpected positive moments
It rained for the solid last 2 days of my trip. Although I knew that imperfect weather was always a possibility and I had prepared for that, it changed the outlook on some of the activities that I had wanted to do. The first rainy night, I opted for a maintained campground for some extra added comforts in the dreary weather. As I was cleaning up and settling in for the evening, the lights on the rugby pitch started to crackle on. I had perfect, hillside seating to watch this local rugby match in a small New Zealand town, in the drizzling rain.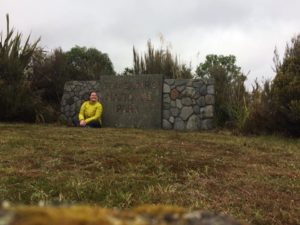 3. How to drive on the left side of the road: a crash course
I will wholeheartedly admit that my biggest fear before embarking on my trip was driving on the left side of the road. There is only so much you can do to prepare yourself for the first moment you slide into a driver seat on the right side of the car instead of the left. I don't even want to admit how many times I was driving along in New Zealand and instead of flipping on the turn signal as I intended, I was instead greeted with a wipe from to the windshield that felt like a slap upside the head.
When planning my trip, the balance between well-budgeted travel and the swiftness of my time in NZ became a fragile line. Upon research, I found a fantastic travel van that fit my budget and needs. Meet Kermit, my wanderlust companion.
It's 9am on my first day in New Zealand, and I'm sitting in the driver seat of Kermit, engine running, and I'm feeling a bit shaky. Is it the coffee that I DOWNED like a champion when my aircraft arrived at 4 am? Maybe. Has the airport food that I've eaten over the past 18 hours finally caught up to me? I guess we'll never know. What I did know in that moment was that I should probably start driving soon, lest the rental car company start to worry about that crazy American girl that's been sitting motionless in her van staring blankly ahead for 20 minutes. So I adjust my mirrors, skootch my seat up to that sweet spot, and I start to repeat my mantra. MAKE PAUL PROUD.
Paul is Avid's Director of Risk Management, but I have seen him wear many hats in the 4 years I have known him. At the beginning of every season, Paul gathers the fleet of brand new 15 passenger vans and the bright eyed bushy tailed new instructors and puts both through the ringer. By the end of van driving training we have confident and capable Mario Andrettis to put behind the wheels of vans. ANYWAY, I couldn't possibly get all the way to New Zealand just to be shaken up by a little thing like taking all my normal driving habits and flipping most of them (but not all of them) around. Right?! I turned the radio off. I took a deep breath. And I went slow to go fast. I stayed in my 'box'. When I needed directions I pulled over. And I'm a better driver for it.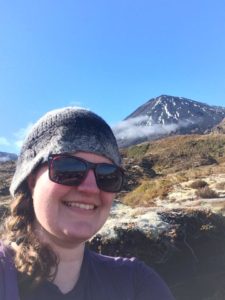 4. Don't live life through a lens
A visit to New Zealand wouldn't be complete without a cultural experience, so I made a pit stop in Rotorua. A town known for its geothermal activity, farm tourism, and cultural importance, Rotorua is a town that most travelers eventually get to in NZ. I have always loved the study of cultures (anthropology was my minor in college) so I opted to check out Te Puia, a compound that houses the New Zealand Arts and Crafts Institute, has the Pohutu geyser sparkling at its center, and hosts a Haka daily. I have never been a fan of crowds, partially because I am vertically challenged and added to by my introverted nature. But some things are worth it, and I was not going to leave NZ without seeing a Haka.
A lot of my experience was trying to catch a glimse through the sea of raised arms and selfie sticks that swarmed in front of me. People playing with their phones to get a live feed started on Facebook, the video of just the 'right' part to show their friends later, trying to get a selfie in front of the performance. When did we start living extraordinary, life size experiences through a screen the size of a notecard? When did we stop absorbing events with all our senses and resort to letting technology retell the tale.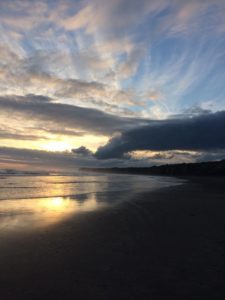 I'm about to let a cat out of a bag. Over the winter, I returned to Wisconsin to be with family while some transitions were happening. When my Dad asked me what I wanted for my birthday, I asked for Ferris Bueller's Day Off. So, we both asked off work, pretended to go to work, and the rest of the day we went where the wind took us. Coffee and large plates of eggs while reading the newspaper at our favorite breakfast place, going to the Museum of Natural History in Chicago, and finishing off the day with the Blue Man Group. We took no pictures, social media was not informed, and nobody but the two of us knew about this glorious day until RIGHT NOW. Sorry for spilling the milk, Dad, but there's a good moral to the story.
Your eyes take the highest quality picture you will ever experience, and your memory deserves much more credit than you might give it. Put down the camera even if just for a moment to connect with what is happening on a deeper level.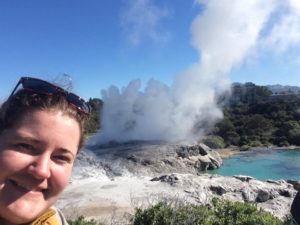 Thanks, Katie!
Find out 4 more reasons why you should be working for Avid4 Adventure.
Learn more about us or,better, yet, apply to work with us this summer!