When it comes to outdoor adventure, a few weeks of summer camp simply isn't enough. (And why should kids get to have all the fun anyway?) Good thing there are plenty of opportunities for incredible outdoor adventure year round right here in (and around) Pleasant Hill, California. Check out our recommendations for the best family-friendly hiking, biking and paddling spots, and possibly add a few of your favorite local outdoor activities for families in Pleasant Hill.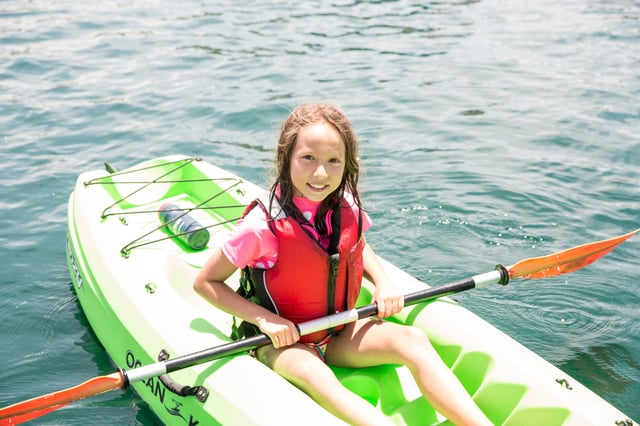 Hiking
For beginning/younger hikers (K – 1st grades)
For hiking with little ones, we love Paso Nogal Park, 63 acres that includes trails, picnic areas and a dog park. (Note: There aren't any restroom facilities here, so you plan your visit accordingly.) Park in the lot or on the street off Paso Nogal Road. From there, start on the paved path, curve left, then right, and find your way up the small hill in the middle of the park. The top offers sprawling 360-degree views, plus the chance to see small planes taking off and landing at the regional airport nearby. The hill is an easy up and back, but the park has dozens of other trails if you want to keep exploring.
For intermediate/older hikers (2nd – 4th grades)
For a bit more challenge, make your way to Briones Regional Park. Use the Bear Creek Staging Area in Lafayette as your starting point, where you'll find a small staffed kiosk (expect to pay an entry fee on weekends). We like taking the Bear Creek Trail from there, a shaded, level, mile-long hike along a creek. If you're interested in a longer adventure, extend another mile along the Seaborg Trail. Then, if you like, create a loop back to the Staging Area by linking to the Crest and Crescent Ridge Trails. These gain in elevation as you hike along the ridge in a more windy, exposed environment, but also offer views of Mount Diablo and Mount Tamalpais, plus the chance to spot birds of prey (bring binoculars if you plan to hike the ridge!). There are picnic areas around the parking lot to relax after (or before) your hike.
For intermediate – advanced/older hikers (5th – 7th grades)
Diablo Foothills Regional Park is a beautiful, well-appointed (parking, bathrooms, picnic areas, maps at the trailhead) spot for a more advanced family hike. Start at Orchard Staging Area and take the Diablo Scenic Trail to the Shell Ridge Trail to the Shell Ridge Loop Trail for a mostly shady two-mile loop. At the top (after a few steep sections), you'll get views of Mount Diablo State Park and some cool geologic formations. Connect to the Fairy Lantern Trail to extend your distance and add some additional challenge. Keep an eye out for wildflowers in the spring and peregrine falcons during nesting season (February – July).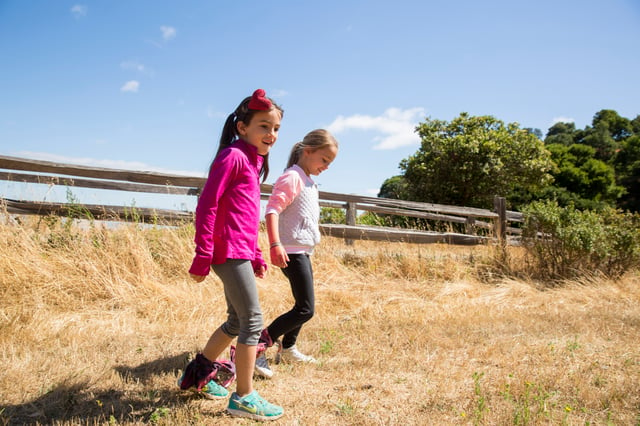 Mountain Biking
For beginning/younger bikers (K – 1st grades)
Diablo Foothills Regional Park also has great mountain biking trails, including an excellent loop for beginners (see the red-highlighted loop on the map available at the trailhead). Take Stage Road Trail to the Castle Rock Trail (or vice versa) for a family-friendly, mile-long ride. An old fire road, Stage Road Trail is wide, even and level—a perfect spot for beginner practice. More tentative riders can just go out and back a few times to get comfortable. Once it connects to Castle Rock, you'll find a slightly narrower trail with a bit of a climb in one section, which could be a good spot to hop off and walk your bike. From there, it's an easy cruise back to the parking lot.
For intermediate/older bikers (2nd – 4th grades)
Old Briones Road Trail, like the hike we suggested for this age group above, starts from the Bear Creek Staging Area in Briones Regional Park. An out and back ride that can stretch anywhere from a mile and a half to six, the trail starts wide and paved (a nice way to warm up) before giving way to gravel with a slight but steady incline. It'll take you through grazing land (complete with cows!), where you can take in peaceful views of rolling hills, blooming flowers and wide open spaces.
For intermediate – advanced/older bikers (5th – 7th grades)
A more challenging ride from the Bear Creek Staging Area is along the Abrigo Valley Trail—walk past the Oak Grove Picnic Area and through the gate to get started. The trail starts wide as it climbs to a camping area, then changes to a narrower two track trail. It flattens out into another camping area, which is a good spot to turn around. If you choose to keep riding, the trails get steeper; stay on Abrigo Valley until you reach Briones Crest, a great place to stop for a picnic or simply enjoy gorgeous views in both directions. From there, go back the way you came or head west along the Crest Trail to return to the Staging Area.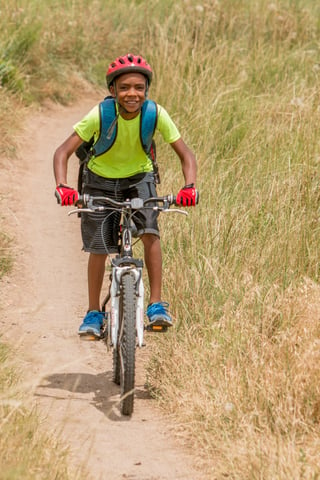 Paddling
Enjoy a day of kayaking and canoeing at San Pablo Reservoir between Orinda and El Sobrante on San Pablo Dam Road. Rent a boat there or bring your own (which must pass inspection before hitting the water) and take off from the six-lane boat launch. A lovely spot for an easy morning paddle—the wind often kicks up in the afternoon—you'll likely see waterfowl along the shoreline. There are picnic areas and a cafe on site for a post-paddling picnic. Note that no swimming or stand up paddleboarding is permitted.
If you're looking for a spot for stand up paddleboarding (or kayaking or canoeing), try Big Break Regional Shoreline, part of the Sacramento-San Joaquin River Delta. No rentals are offered here, so you'll need your own gear to take to the water. Paddle to a few small islands offshore and keep an eye out for all kinds of wildlife, from birds and turtles to beavers and river otters. The new visitor center is an incredible resource for learning more about the Delta and its wildlife; check out their activity calendar before visiting.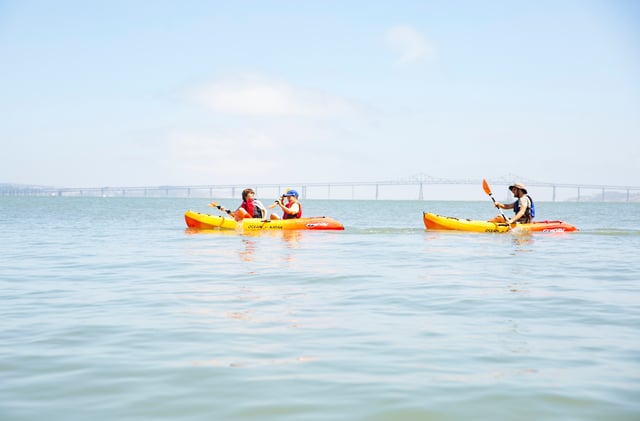 You don't have to travel far from Pleasant Hill, California to find East Bay outdoor activities your whole family will love. The benefits of getting outside as a family outweigh the challenges of planning recreation days & hopefully these above tips help! Do you have any local outdoor recreation activities in Pleasant Hill that you'd like to share? Tell us!