Keeping your kids active outdoors all year long doesn't have to feel like a chore. In fact, outdoor family adventures are for everyone, whatever their age or experience level. But if you need a good jumping-off point, you've come to the right place. Here are our favorite spots for families to take on outdoor recreation activities—hiking, biking and paddling—in and around Burlingame, CA.
Hiking
For beginning/younger hikers (K – 1st grades)
Give your little ones a taste of hiking on the Sawyer Camp Trail, a wide, shady, paved path frequented by hikers, cyclists, joggers and horseback riders. The 6-mile trail stretches between Crystal Springs Reservoir and San Andreas Lake. Start at the southern trailhead, where you'll also find restrooms and picnic spots, and go as far out and back as you like. You'll enjoy views of Crystal Springs on your left and may spot water birds, deer and rabbits as you walk.
For intermediate/older hikers (2nd – 4th grades)
Slightly older kids (and their parents) will find an ideal intermediate-level hike at the Mills Canyon Nature Area, right off Arguello Drive in residential Burlingame. This 1.4-mile loop features a few ups and downs, plus some obstacles like stairs and rock formations to cross. You'll wind through beautiful trees and wildflowers (watch out for poison oak!) and young hikers will find boulders to climb and a creek to explore. No restrooms or water fountains here, so plan your outing accordingly.
For intermediate – advanced/older hikers (5th – 7th grades)
Challenge older, more experienced hikers on the Resolution Loop at El Corte de Madera Creek Preserve, just west of Skyline Boulevard. This 6.2-mile loop includes about 800 feet in elevation change, taking you through a beautiful redwood forest with a mix of sun and shade. The hike is quiet, lush and gorgeously green, but requires sure footing, as it can be steep and rocky in places. This route is also extremely popular with mountain bikers, so expect to share the trail.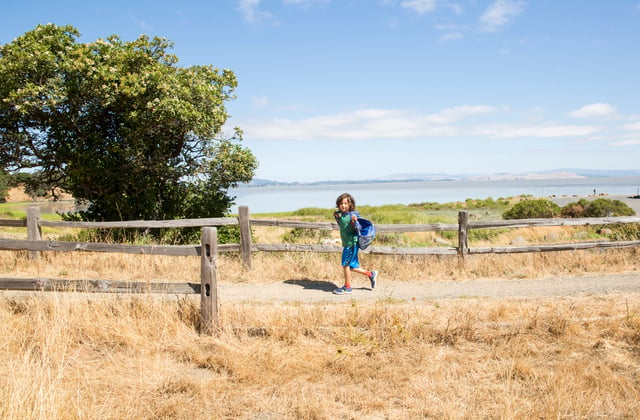 Mountain Biking
For beginning/younger bikers (K – 1st grades)
We like Coyote Point Recreation Area in San Mateo for getting kids comfortable riding bikes on trails. You'll find several paved pathways throughout the park—mostly short and with beautiful views of the bay—where you can ride out and back as far as you like. Take a break to watch windsurfers and planes taking off from SFO. When you've had your fill of biking, there's a picnic area and a castle-themed playground to enjoy.
For intermediate/older bikers (2nd – 4th grades)
Saddle Loop Trail in San Bruno Mountain Park is a perfect destination for intermediate bikers. A 2.1-mile trail with views of San Francisco and the Marin Headlands, this well-maintained gravel path is great for getting kids used to riding on dirt. There are lots of wide, open-air stretches, so be sure to wear sunscreen, and keep an ear out for native birds singing in the grasslands.
For intermediate – advanced/older bikers (5th – 7th grades)
Head back to El Corte de Madera Creek Preserve, this time to the Sierra Morena Trail, for a bike ride to challenge your older kids. At just under 2 miles, this single track trail runs along Skyline Boulevard, taking you through a wooded canyon with plenty of turns and a few ups and downs. A deservedly popular mountain biking destination, it serves up a scenic, satisfying ride through the redwoods.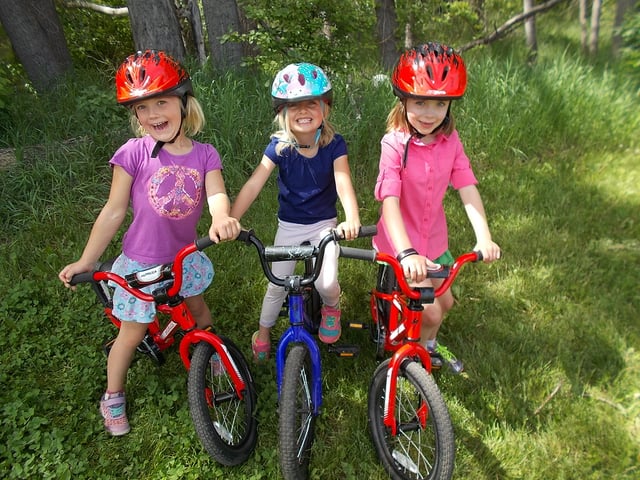 Paddling
An extensive lagoon full of open water, canals and man-made islands, Foster City Lagoon is an easy, pleasant spot to practice paddling without negotiating the wind and waves of the bay. Launch your own registered vessel from one of their two boat launches (we like Boat Park), or rent a paddleboard or kayak from California Windsurfing—who also offer lessons—in Leo J. Ryan Park. Note that gas- and diesel-powered boats are prohibited.
If you're eager to get out on the bay, try sea kayaking or stand up paddleboarding at Coyote Point Recreation Area, where you'll find three launch points along Promenade Trail. Boat launching is free, but expect to pay a fee for vehicle entry. Be sure to check weather conditions before you take to the water.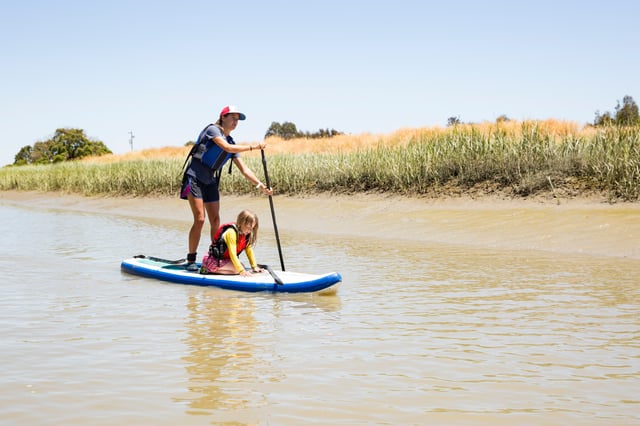 When you're in Burlingame (and surrounding areas), you're never far from a beautiful spot for inspiring outdoor recreation activities for the whole family. Enjoy your adventure!
Of course, signing up for outdoor summer camps in Burlingame is an easy way to ensure your kids a fun adventure this Summer. Check out our camps offered in Burlingame today!