My children have participated in Avid4 Adventure's summer camps for a number of years and now that they're technology-obsessed teenagers, those adrenaline-charged summers are more relevant—and imperative—than ever.
One of the many great things about Avid4 Adventure's summer camp for kids is they are not just for the extreme outdoorsman. In fact, Pre-K – 11th graders of all levels and backgrounds learn to kayak, canoe, stand up paddleboard, rock climb, bike, hike and thrive in the outdoors. Camps are offered in Boulder, Golden, Highlands Ranch, Washington Park, Stapleton, Castle Rock and Lafayette. They also have Colorado Mountain Camp, a sleep away camp located at Windy Peak, a beautiful location near Bailey, Colorado.


Something Old and Something New
When my kids participated in their fifth season with Avid4 Adventure, I was a bit worried they would take a been-there, done-that attitude but their experience could not have been farther from the truth. Avid4 Adventure does a fantastic job expanding upon past years of kayaking, canoeing, rock climbing, biking and hiking….while somehow also catering to the beginner.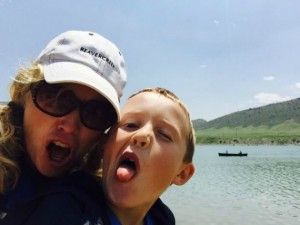 Denver mom Elizabeth Senouci is a self-proclaimed "indoorsy" type. She wanted to expose her children to a more active lifestyle so enrolled her kids in Avid4 Adventure's Multi-sport Camp. "At the end of the week, we were all sad camp came to an end: I would miss the perfectly organized activities that resulted in happily exhausted kids, and they would miss their new friends and daily challenges. I was feeling pangs of jealousy dropping them off in the morning, wishing instead of driving back to my office I was riding along in the slick Avid4 van with a camper full of canoes and bikes hooked up to the back, heading out somewhere to learn a cool new sport with the instructors guiding me every step of the way."
Lifelong Learning
Founder Dave Secunda calls their camps an empowering experience meant to inspire a lifetime of outdoor participation. Perhaps the Senouci family's biggest takeaway was they felt something bigger had shifted within all of them. "Thanks to Avid4 Adventure, we all wanted more of the outdoors, even me, the indoorswoman. So instead of spending this weekend shopping or cleaning, we're making it a priority to go outside together, even if only for a short while. The iPads and laundry, I know, will be there when we come back from our hike."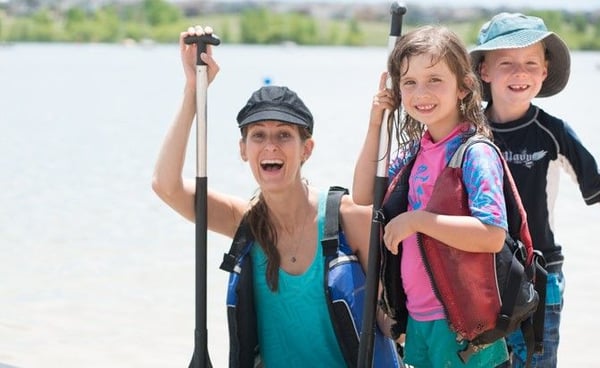 I have caught of glimpse of Avid4 Adventure's camp magic during parent days. One year, I joined my kids at the Survival camp where they showed me how to track animals, and build shelters and tools. Another year, I witnessed Bode scale a huge rock wall (while my grateful feet remained on solid ground) and I went canoeing with Hadley at Bear Creek Lake Park. My history with canoes involved capsizing or using a rake as a paddle (long story but when you don't have oars you improvise).

No improvisation was needed with the Avid4 kids as they became extremely proficient in each of the activities. I was impressed with all the instructors who were not just college students on summer break but rather ages 21+, certified in Wilderness First Aid and CPR, highly trained and passionate about instilling a love for the outdoors.
I first heard about Avid4 Adventure through a friend who raved about their Outdoor Education School Programs and what's not to love? They bring a portable stations to schools such as a 25-foot mobile climbing wall, a 30-foot portable pool for kayaking or canoeing, mountain bikes and a portable mountain bike skills course and an outdoor Leave No Trace classroom.


Between their school program, adventure day camps all over the Metro area, family camping trips and overnight camps, the only thing Avid4 Adventure is missing is classes for adults.
I'll be first in line should it ever it ever happen.
Amber Johnson is the editor of Mile High Mamas, Denver's first and longest-running social media community for moms.