Everything's better by the water!
I'm a firm believer that being in, next to or on the water is otherworldly. Maybe it's because I grew up near the ocean, and I think saltwater trickles through my veins and any activity involving water is medicinal. I love reading a book with my toes wiggling in the water, but I think the magical part is the element of fun water offers whether it's the ocean, a lake or a pond. We've got some great tips and tricks for outdoor recreation options that include water - and paddling!

Yes. Yes. I know what you're thinking – and you're right. Once you have children, you can't grab a towel, sunscreen and head out on a whim. Suddenly, you're a Sherpa pulling a wagon overflowing with toys, umbrellas, floaties, coolers, chairs, rafts, boogie boards, and anything else you think will entertain the kiddos for the day. Buuuttttt have ever you considered taking your kiddos stand up paddleboarding (SUP)? Don't shake your head "No" just yet. We're here to tell you it's easier than you think – and it's FUN! Follow these tips & tricks for some fun outdoor recreation for family adventures:
Ready, set, safety: We know kids get super excited when they want to try something new – especially when it's as awesome-looking as SUP. And while we love their all-in attitude, you need to be sure your kids are comfortable in the water and know how to swim. Also, make sure every child has (and wears) a personal flotation device and a helmet.
It's all about the equipment: Boards and paddles come in different lengths, so it's important to find the right length for your kiddo. An adult board or paddle is too much for a child to handle. It's totally OK for your child to start with a canoe paddle or even half a kayak paddle – after all, kids aren't holding a pole for balance as if they're walking on a tightrope. Look for SUP rentals where you can get all the equipment needed for an adventure. Oh, and be sure the equipment includes a leash, which attaches to your kiddo's ankle and the board. That simple strap makes chasing the board after a fall a non-issue.
Location, location, location: Choose shallow, calm waters. Rapids, waves or currents aren't a beginner's friend. Given SUP's growing popularity, this tip may be tricky, but find a location that isn't crowded – even if that means going earlier in the day than you may prefer. It'll be frustrating to both beginners and advanced paddlers trying to avoid boards and kiddos, who can't quite steer yet. Also, and this may seem obvious, but find a body of water that doesn't allow motorboats.
Teach the basics: You have the eager children, the equipment, and the location. Now, what? Kids need to learn the basics – falling, getting back up, steering and paddling. If your child is like mine, you're probably thinking, "What's she talking about, my child falls all the time." Believe me, kids are going to lose their balance . . . a lot . . . and with SUP, you want them to learn to fall to the side into the water and away from the board. And, of course, once kids fall, they need to learn how to get back on the board . . . and minimal drama and complaints would be best. You know the saying about kids needing to crawl before they can walk? We're going to modify that for SUP and say that beginners need to get comfortable kneeling and paddling before they can stand and do it. Any strokes and steering techniques you can do standing, you can learn kneeling, and it's much less frustrating to teach the basics this way than to develop bad habits. With the magic of the Internet, you can read and see videos to help teach the basics before you head out.
Have fun (and patience): I'm not going to lie. You're going to need patience to teach your child to SUP. But you know your child's limits just like you know how excited they get to try something new – especially when they see you enjoy it, so dig deep if you have to. You also know that having the right equipment and being in a sheltered location means that your child is safe, so take your time and practice, practice, practice. Be a good example for your kiddos. Laugh when you fall off and pop back on your board. For example, you lose your balance, arms wildly flailing as you (less than gracefully) fall off the board, and your favorite sunglasses catapult into the water, hover for just a second before sinking deeper never to be seen again. Then, you and your child go ice skating at that same lake in the winter, and you both re-live that moment and laugh. Or something like that . . .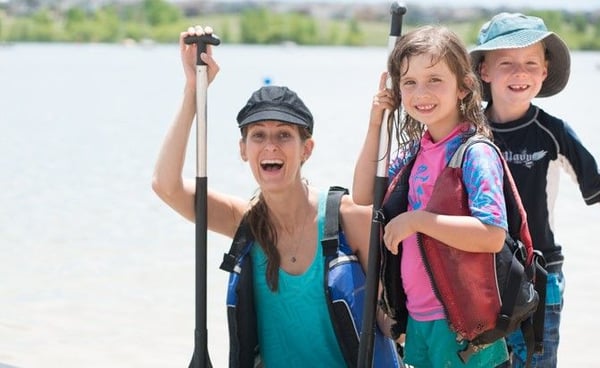 Exchange the wagon and umbrella for a board and paddle and teach your kids how to SUP. SUP is the hat trick of outdoor activities (we're approaching the playoffs, so a hockey reference isn't that random). It's fun, works every part of your body, and is a unique way to explore areas you may only get to see from the water. Watch as your children become more confident and independent as they learn, and, who knows, maybe they'll grow to try yoga and competitive racing!

Looking for SUP-specific camps? Avid4 Adventure has got you covered! They offer SUP camps for everyone - beginners to those wanting experience on moving water.