Overnight Camp Video Series - What you Need to Know about Resident and Expedition Camps
At Avid4 Adventure, we offer a wide range of overnight camp programming for 1st-12th grades in Colorado. Campers from all over the United States and around the world travel to Avid4 Adventure Overnight Camps to participate in confidence building outdoor adventures from four days to two weeks. To understand the differences in programs, take a look at this quick, seven minute video or read the full transcript below.
Full Video Transcript:
Paul - Avid4 Adventure CEO:
Hi everyone, thanks so much for joining us. My name is Paul and I'm the CEO of Avid4 Adventure and I know by this time you've likely heard a ton and you've read a bunch about all of the benefits of Overnight Camp programming. The social, emotional and developmental benefits.
This seven minute video is to help you now choose which specific Avid4 Adventure Overnight Camp program would best serve your kid and your family. To help us get there, I invited three folks to talk about it. We have Eric who's our director at our Mount Evans Overnight Camp; Heather, director at Windy Peak location and Kyle our COO who is representing all of our Expedition programming. Same question for each of you to start off — tell us about just the logistics of each of the programs that you oversee at Avid. So age of the kids length of programming and where it all happens.
Eric - Mt. Evans Director (1st-6th Grades):
Well hey everyone, I'm the director at Mount Evans. We get to serve grades one through six so we have a four-day three-night program for first graders — our mini campers. We have a one-week program for second through fourth graders and a two-week program for fourth through sixth graders all within beautiful Evergreen, Colorado.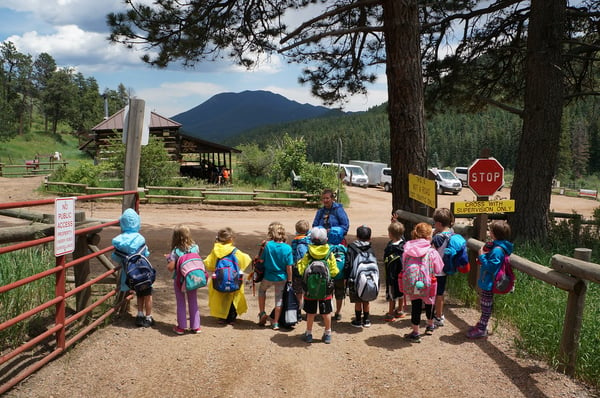 Heather - Windy Peak Director (7th-11th Grades):
At Windy Peak, we pick up right where Mount Evans leaves off so we have seventh and eighth graders that come for two weeks as well as ninth through eleventh graders who also come for two weeks and all of it happens in Bailey, Colorado.
Paul:
Great, thanks and both Bailey and Evergreen from metro Denver or Denver Airport — about how far of a drive is that?
Heather:
Just a little over an hour.
Paul:
Great, thank you and Kyle talk to us about Expeditions.
Kyle - Avid4 Adventure COO:
For Expeditions, brand-new this year, we have something for everyone. We have programs for fifth and sixth graders — the first cohort, seventh and eighth is the second cohort, and then high schoolers. They're all one-week programs Sunday to Saturday. We're taking kids to Curt Gowdy State Park in Wyoming, Steamboat Springs, Staunton State Park in Evergreen and backpacking in Rocky Mountain National Park. (All Expedition Overnight Camps leave from Boulder, Colorado)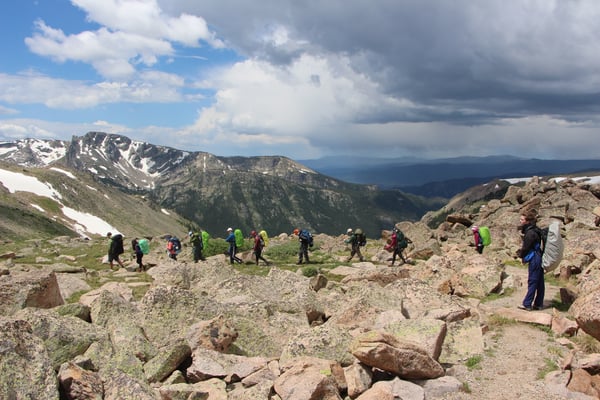 Paul:
Okay now a specific question for each location. Eric as we just heard from you, at Mount Evans, you serve some of our youngest campers. I can imagine that a lot of parents might be thinking about sending their kid off to Overnight Camp for the very first time. So, talk to us about how you support parents and kids before camp even starts.
Eric:
It's a really great question. It starts with support from information right at the start and we do that with a lot of the digital resources that we have available. Not only individual pages on our website but pre-camp guides as well as videos like this one to tell you all about camp before you get there. You can call us at (720) 249-2412 — our Customer Experience team is here to help. They know our programs really intimately, and then there's me. I'm available all the time — before the season, during the season, and after the season — to answer any questions you have and specific needs in order to make sure that your camper has a great time this summer.
Paul:
Great, thanks Eric. Heather, as you mentioned, you serve some of our older campers. As we know, a lot of times kids will go to the same camp year after year. However, I think a lot of the parents watching now might be thinking about sending their ten or twelve year old to Avid4 Overnight Camp for the very first time, where they would enter a community where other kids might have been going to that camp for a long time. What do you do it Windy Peak specifically to help welcome brand new campers?
Heather:
I think first off there's this misconception that everybody else has been there before and "my kid will be the only new kid at camp" and it's not true. Probably at least a third of our campers are new to Avid when they at Windy Peak and we also keep that in mind when we build our groups. There are people who are returners as well as kids that are new in each group so that there's a new friends to make in those groups. We're also intentional with their group sizes keeping them small at a thirteen campers with two instructors and that's who they do everything with. So they have a lot of time in those two weeks to really build those relationships, celebrate successes and just make some really great new friendships.
Paul:
Great, thanks Heather and Kyle with Expeditions — I know there are parents watching right now when they hear the word "expedition" they think of every space camp right — these high-intensity expeditions. What if a parent is asking themselves, what if my kid is not that intense? Would Avid4 Adventure Expeditions still be right for them?
Kyle:
Yes, we really designed these trips both for the first time adventurer and the seasoned pro who wants to get more experience. As a parent, what I want for my child is a one-week experience with close friends trying new things and just learning all the the safety, the judgment, the decision-making that goes into all of these different outdoor pursuits and then as the kids get older if they decide to specialize, we do now offer one-week mountain biking expeditions, one-week rock climbing expeditions and that's really meant for the kid who knows 'I want to spend four to six hours a day on different trails each day biking.' So I think if you look at the suite of programs we truly can cater to both of those kids.
Paul:
Great, thank you, and thank you all for sharing just a little bit more information. Hopefully now our viewers have a good idea of which Overnight Camp program at Avid would best serve their child. As you dive deeper, there is a lot more information on the website, on the unique locations and programs. We also have individual videos with Eric talking just about Mount Evans, Heather talking just about Windy Peak, and Kyle talking just about Expeditions. So check those out, check out more information (they will be posted on our blog). Thanks so much and hope to talk with you real soon.
To request more information on our Overnight Camps in Colorado — Mt. Evans in Evergreen, Colorado for first through sixth graders (and our Staff-In-Training program for twelfth graders); Windy Peak for seventh through eleventh graders in Bailey, Colorado; or Expedition Camps for fifth to eleventh graders — click the button below.