Overnight Camp Video Series - Founder, Dave Secunda Shares Valuable Message from Parent
Avid4 Adventure Overnight Camps offer kids and teens the ability to build technical skills in a wide range of outdoor sports like kayaking, rock climbing, mountain biking and whitewater rafting. In the process, campers develop soft skills as well like confidence, teamwork and independence. What we do not talk about are the things parents often learn after their child attends camp. Watch the video or read the full transcript for an inspiring story on this subject from Dave Secunda, founder of Avid4 Adventure.
Full Transcript:
Hey Everyone Dave Secunda here, founder of Avid4 Adventure. I thought it would be apropos to do this video as I was snowshoeing up in the mountains since it is such a big part of our family's life.
I know you are thinking about what it would be like for your kids to be at Overnight Camp. You've probably listened to Paul as he shared a little about our philosophy and why this sort of experience can really benefit your kid. You might also have some concerns, some thoughts about how they'll do and—'What about being homesick?', 'Are they old enough?', 'How are they going to do without me as a parent?' I certainly know I had those those feelings when when my girls were moving towards overnight camp as well. When trying to think about what to share on this topic, I remembered a story from a parent that I wanted to share back with you.
Basically, a parent had their kiddo in camp where they learned to kayak and in the process learned to do a t-rescue and a number of other maneuvers. The parent was writing about 6 months after they had been at camp when the family had just done a trip down in Mexico and had gone out sea kayaking. Mom, Dad, and the kiddo had taken a sea kayak out for the day and the water was pretty rough. Pretty far from shore, they came across a couple of college students and one of them had capsized. They all came around the kayak and it was clear that the college kid was actually getting pretty scared because he could not get back in his kayak. He could not figure out how to right it and they didn't really know what to do so Mom and Dad tried to help for awhile. They realized they just could not do anything and so the dad said 'You guys stay here, I'm going to go back for help.'
Then, their seven year old said, 'Mom, Dad I know what to do. I learned this at camp. I know how to do a t-rescue.' Then the parent went on to describe their kiddo working through a t-rescue with these two college students righting the kayak, the college kid moving back in and being able to safely continue along the journey. The parent was brimming with such gratitude for two reasons.
One was because she just wanted to share how proud she was of her kid to really save the day which they literally did. The other one—and the reason I share this story—is she said (and this just brings tears to my eyes) the learning I had about my kid, their capability and what they could do was far in excess of my limiting belief of who I thought they were. That was the insight, that was the learning, that was the awe-inspiring part of this experience.
As you are thinking of sending your kid to camp, I'll let you reflect on that. Kids are incredibly capable. Entrust them with this experience. We will take really good care of them. It is an opportunity for them to spread their wings and surprise you as to what they can do. Have a great day.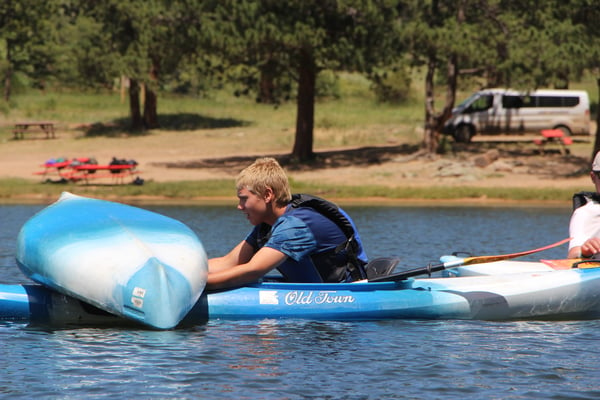 To request more information (including discounts and special promotions) on our Overnight Camps in Colorado — Mt. Evans in Evergreen, Colorado for 1st through 6th graders (and our Staff-In-Training program for twelfth graders); Windy Peak for 7th through 11th graders in Bailey, Colorado; or Expedition Camps for 5th through 11th graders—click the button below.