For many of us these days, taking and sharing pictures is a natural part of our daily routine. And the desire to take great photos only heightens when you're with your family are on an exciting adventure in the picturesque outdoors! We all want to capture that perfect picture of our kiddo sending it off of a jump on a mountain bike, paddling a speedy turn in a kayak or climbing to the top of a rock wall.
But sometimes the moment comes and goes and you barely have time to get your camera out, let alone think of the right angle and shot you want. And you don't want to take away from the experience by saying "Oh, can you do that one more time?"
After a summer as the Photography Supervisor at Avid4 Adventure's Overnight Camp in Colorado and past experience as a photographer, I've come up with a few answers to questions you probably have on how to snag a candid and action packed picture that's good enough not only for that next Instagram post, but to blow up and frame for the mantle too!
WHAT EQUIPMENT DO I NEED?
I'll be honest, the cameras on phones today are stellar. The pictures are crisp and clear and you can even play with depth of field (the distance between the nearest and furthest objects in focus in a photo). So do you need a fancy camera for an awesome picture? No. But if you want to go the extra mile in getting a truly one of a kind picture, then yes. With a DSLR, you can interchange the lenses, adjust lighting and have complete control over focal points.
For the summer, I used a standard Nikon wide 18mm-55mm lens for capturing wide-angle shots of the whole group or each kiddo having fun doing an activity.
For the more personal, close up shots, I used my 55mm-300mm lens. This lens is also great if you don't want to risk taking your camera on your stand-up paddleboard but still want a close shot from the shore! It's hands down my go-to lens for getting my favorite pictures.
A must-have that has changed the way I take pictures on the go is a backpack camera mount. This baby allows me to securely clip my camera onto my backpack strap for easy access in the moment. I go hiking, backpacking, climbing and mountain biking and it has made traveling with my camera a synch!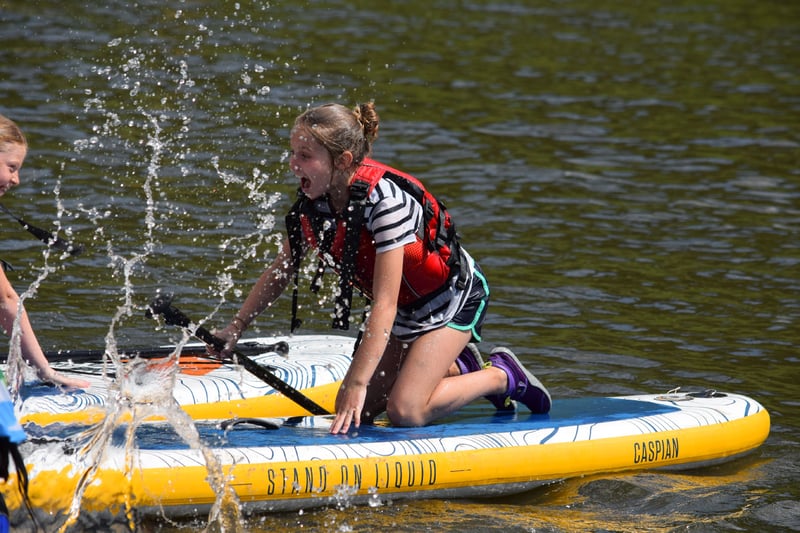 HOW DO I GET THE PERFECT SHOT?
The big three you should always remember when taking a picture are:
Lighting: make sure the sun is never behind the subject.

Ensure that shadows in the photo are minimal and try to avoid mid-day sunlight.

Composition: everything included in the frame should have a purpose.

Have fun with it! Play with the angles, zoom in and out, put the background out of focus, blur a flower in the foreground while your kiddo is hiking by in the background. If there is a moment where you're thinking "Hmm, that looks cool. Maybe I should take a picture…", do it, don't think about it then miss it! You can always erase a bad picture, but you can't recreate a missed one.
The more pictures you take, the more you have to choose from. But try not to go overboard. Too many pictures of one activity can cause a real headache in meticulously choosing your favorites!

Focus: the main subject doesn't always have to be in focus, just make sure something is.

Another big problem I've seen and had myself is the blur you're left with when someone is whizzing by on a mountain bike. A solution to practice is to set your camera to sport mode, move with the motion and try to take a series of shots.
If you're using an iPhone, you can hold down the capture button on your camera to take a burst of multiple shots—then choose the best ones!
Also, try to remember the Leave No Trace principles. There is no shortage of awesome pictures to get while staying on the trail!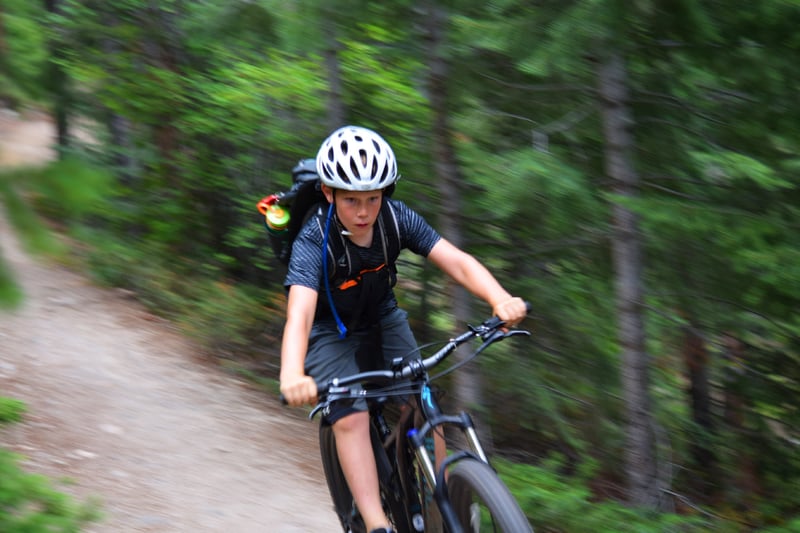 DO I HAVE TO SPEND THE WHOLE HIKE, RIDE OR CLIMB TRYING TO GET THE SWEET SHOT?
As much as I love taking pictures, I also love enjoying the outdoors and an activity in the moment! Chances are there are going to be so many opportunities to get a cool shot that you can pick and choose when to try your hand at action photography along the journey.
Don't let all your attention go towards what would make an awesome picture. You'll know it when you see it.
Adventure photography should be a collaboration, so let the kids get involved too—both in front of and behind the camera! Some of my favorite pictures from this summer came from the brains of the campers.
So get out there, stay on trail and have fun, because whatever pictures you take on an adventure, there will be amazing memories attached! Happy photographing!
Did you know that every week at camp we take photos of our campers having a great time doing outdoor adventure sports like mountain biking, kayaking, rock climbing, hiking and more? We provide these photos free of charge at our day camps and overnight camps in California, Colorado, Minnesota, Oregon and Washington so that participants and their families can enjoy memories made at camp for years to come. And our Overnight and Day Camps are now open for registration! View available camps by clicking the button below.
Thank you to Libby Gemperline for the photos in this article and for the fabulous photos taken at camp all summer!