Forbes Podcast: Avid4 Adventure Camps to Combat Decreased Physical Education Funding
Avid4 Adventure CEO, Paul Dreyer was invited to speak on the ForbesBooks Radio Podcast. He spoke about why Avid4 Adventure was founded, the main goals of programming, the current lack of opportunities that children have to lean into risk and more.
"In the early 2000 years, that's when we first started to see increasing screen time not only in adults but in kids. In conjunction, it was the first time we really started noticing increasing rates of childhood obesity and childhood diabetes across our country. At the same time, [there was] a decreasing rate of getting outside, funding for recreation and funding for physical education. We were founded to combat those trends... and get more kids being healthy and being active in the outdoors." -CEO, Paul Dreyer
Ripple Effect
In the podcast, Paul shared that one of the goals of Avid4 Adventure programming is to increase kids' confidence through outdoor adventure sports like biking, paddling, climbing and hiking. The adventure sports are the vehicle to reach that goal, he explained. Paul mentioned that Avid4 Adventure programs also bring parents into the experience with the aim of getting families to participate in the sports their children try at camp, after camp is over. Often, by having their children participate in programs, there is a ripple effect that family members and friends experience. While at camp, children regularly discover new recreation areas within driving distance from home. In-turn, campers invite friends and family members to visit these newly discovered recreation areas to do the outdoor sports they learned at camp. Campers may even teach their friends and family members skills they learned at camp like fitting gear properly or new sport-specific technical skills. Ultimately, the mission of Avid4 Adventure programs is for campers to be empowered to live active outdoor lifestyles often empowering their friends and families to do the same.
Less Screen Time
With the strong allure of technology on kids and even adults, another goal of Avid4 Adventure programs is to help campers experience the outdoors away from screens. In the podcast, Paul expressed that with the ever-increasing influence of technology on kids' lives, it is even more important for kids to spend time outdoors. Children of today tend to live in risk-averse environments – as Paul put it – leaving gaps in their abilities to manage risk for themselves. Avid4 Adventure curriculum has a strong focus on helping kids become risk managers – something that they can practice when camp is over as well.
To hear the full podcast, click here.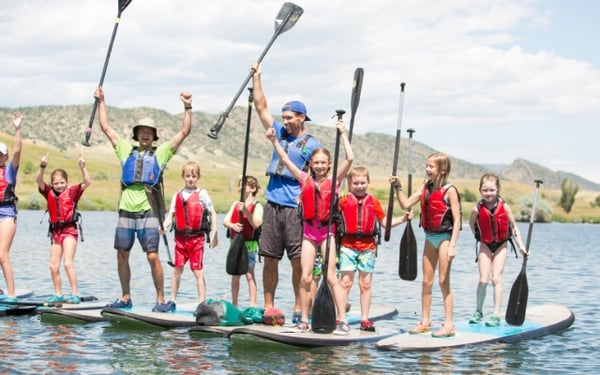 As the influence of technology continues to grow, so does the positive impact and reach of Avid4 Adventure summer camps. The company began with a single day camp location in Boulder but has since extended to serve communities in Lafayette, Superior, Denver, Stapleton, Lowry, Highlands Ranch, Greenwood Village, Golden, Castle Rock, and Colorado Springs Colorado; Burlingame, Mill Valley, Moraga, Oakland and Palo Alto in the Bay Area of California; and Portland, Oregon. They also offer overnight camps in Evergreen and Bailey with a recent expansion of Expedition Camps as well.
To receive more information about summer camps where your child may be empowered to live a healthy outdoor lifestyle, click below.