Here are our local Denver outdoor recreation suggestions to get your family outdoors and excited about adventure camp this summer!
Our mission is to inspire kids to lead active lifestyles, which means staying active even when camp season is not in session. We encourage a year-round engagement with the outdoors, so we've provided a list of great Denver outdoor recreation spots below to get your family started. We'd love to hear your suggestions on best places for outdoor recreation for families in the Denver area!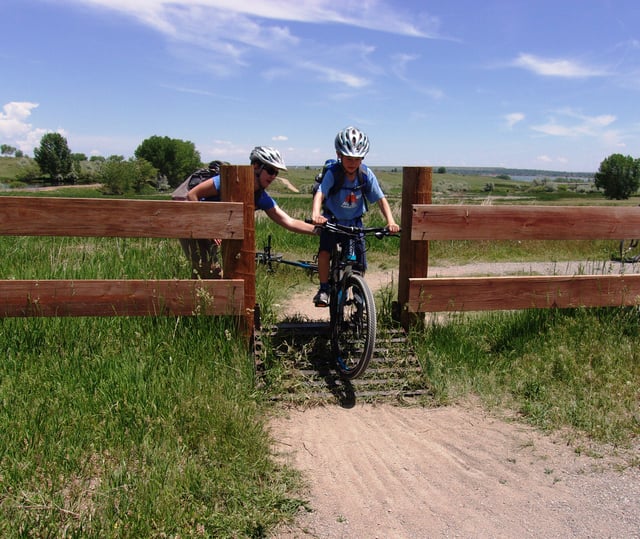 Only 12 miles outside of the city lies Matthews-Winters Park in Jefferson County Open Space. The park has 9.2 miles of trail and 2,474 acres of land, with routes that are perfect for exploring by bike, hike or rock climb. "The park is most known for the famous red rock formations, which date back some 300 million years, and make for an awesome concert venue. The whole family is sure to enjoy this park!" Check out the Dinosaur Ridge Visitor Center and the park website for more information on this fascinating geology!
Best Beginner Hiking Trail-Village Walk/Red Rocks Trail:
This trail is ~1 mile long and will hike you through Mount Vernon, which was the gateway to the Rocky Mountains in the 1870's. This hike is perfect for families and those wanting a stroll in nature and through history.
This park is 20 miles outside of Denver to the west. The trail system at Mt. Falcon has many biking and hiking trails. The park sits on 2,248 acres and has approximately 12.2 miles of trail. The castle and tower hike are great options for the whole family! Don't forget to check out the history of Mt. Falcon.
Best Beginner Hiking Trail-Tower Trail:
You can access this hiking trail from the Castle Trail, turning right at the first intersection from the parking lot. This can be an out and back hiking route, or made into a loop by catching the Meadow trail and following that back west to the start of the Tower trail.
Best Beginner Biking Trail-Meadow Trail:
A great beginner bike ride starts at the West Trailhead and follows the Castle trail for about 0.6 miles. After biking this distance you'll hit the intersection of Castle Trail and Meadow trail, where you can take a left to check out the Walker Home Ruins or a right to start biking on the Meadow Trail. The Meadow Trail is 0.4 miles to the next intersection, and if you continue on the Meadow trail for another 0.3 miles you've done the Castle/Meadow trail loop. This loop is a total of about 1.3 miles on flat to moderate grades, making for an easy & scenic ride.
Best Intermediate Biking Trail-Walker's Dream Trail:
For riders looking to tackle intermediate trails, you can continue on Castle trail (instead of taking Meadow trail) for 0.4 miles. At this point you'll come across Walker's Dream trail, and you can continue biking on that for another 0.4 miles. If bikers choose to do this portion of the Castle Trail, the length is about 2.3 miles out and back. Make sure to turn around after the Walker's Dream trail, if you continue on Castle trail you will go down a long steep trail to the east parking lot.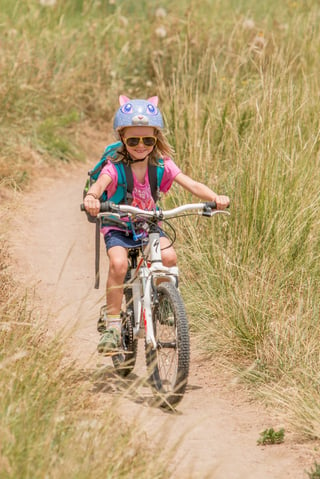 Miles from Denver lies Bear Creek Lake Park - it's up against the Front Range, at the C470 and US 285 junction, just 5 miles south of Matthews Winters Park.
Bear Creek Lake Park offers lots of hiking and biking for all ages, as well as:
2,600 acres of open space
15 miles of soft-surface (primarily dirt) trails for users of all abilities. Most trails are open to horses, pedestrians and mountain bikes.
Miles of multiple-use trails to explore on foot, bicycle or horseback
Visitor Center featuring displays and Naturalist Programs
Swim beach and marina with boat rentals
47 site campground with electrical hook ups
Horseback riding stables offering guided rides
Water ski school and fishing opportunities
Best Beginner Paddle Sporting-Big Soda Lake:
You can swim, paddle, sun bathe, or picnic while enjoying this amazing lake. Motorize boats are not allowed on the Big Soda Lake, which makes this place a unique hang out spot for paddlers. This also makes Big Soda Lake quite popular in summer months. Beat the crowds to grab a spot, and bring a picnic so you can hang out all day. Get there early if you want to rent some gear. The entrance fee is $10 per vehicle. Park at the boat rental parking lot at Big Soda Lake and put in at the boat launch.
Don't Forget:
Sunscreen: the high elevation and Colorado sun take no prisoners!
Water: try a specialized hydration pack if you want free hands
Snacks: some fruit, a protein bar, or trail mix will keep your energy high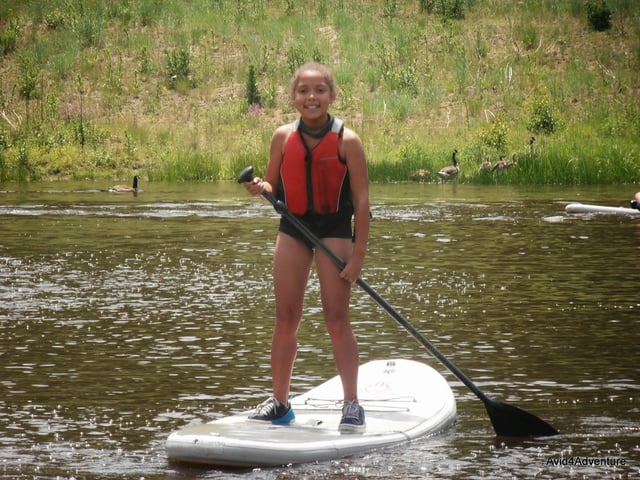 Our core values – like Live Fun! – encourage a year-round engagement with the outdoors. The values that your kid learns while at summer camp will last them a lifetime, but encouraging a year-round engagement with the outdoors, especially with the whole family, is vital. Luckily, the Colorado Rocky mountains have some of the most exhilarating hikes, trails, and routes in the U.S.!
We couldn't be more excited to see your kids at camp for even more adventures, and we would love for you to share your photos and stories with us on Facebook, Instagram, Twitter, Pinterest or simply email us at Info@avid4.com