"It's more than just this simplistic concept of seeing more color on the trails. It's about getting people out and embracing the outdoors as a lifestyle, in a way that acknowledges any limitations they face in life. You have to talk about low-income experiences, the immigrant experience, what it means for people to invest in gear, to balance it with work and life and family. You can't just say 'diversity.' You have to see what's barring people from getting to the outdoors." - Ambreen Tariq in Outside Magazine, "To Diversify the Outdoors, We Have to Think About Who We're Excluding"
Tariq started the Instagram account @brownpeoplecamping to get people to rethink what being outdoorsy means and how to promote greater diversity in the outdoors.
The National Park Service reports that 80% of visitors, staff and volunteers are white. Articles, podcasts and videos from CNN, NPR to Outside Magazine explore the issue of diversity by asking questions - what barriers exist for people in getting outside, how do we encourage diverse backgrounds in the outdoors, what does 'outdoorsy' actually mean?
Tackling stereotypes and the dominant discourse of the outdoor industry - from skin color, to body size to even what sports count as adventurous enough - are becoming more mainstream, as marginzalied voices are becoming included and heard in these conversations.
In CNN's article, Nature's Calling - for more Human Diversity, leaders discuss diversity in the outdoors:
To solve the diversity problem in the outdoor community, experts say, we need to redefine what it means to be outdoorsy. Advocates explained that getting outside and exploring public lands can be daunting without personal experience or community members to guide you.

"We need to be able to promote outdoor lifestyles that are real," said Ambreen Tariq, communications director and board member of Green Muslims. "People often view the outdoors as you're a backpacker or you have to be extreme and minimal. But that's not my lifestyle. The outdoors means you go outside and you enjoy nature in whatever setting you want. Maybe that's a cookout; maybe that's gardening; maybe that's going to a state park that's down the street."
At Avid4 Adventure, we love introducing kids and teens from all backgrounds to the power of outdoor adventure. We are also asking ourselves tough questions about diversity in the outdoors and our role in supporting children of diverse backgrounds in getting outdoors for life. Our hope is to provide opportunities for kids of all physical abilities (not just those that identify as athletic or adventurous), races, ethnicities, genders, economic backgrounds and religious backgrounds to enjoy the outdoors in however they define that experience.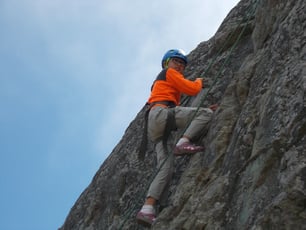 One step we are taking is to make intentional partnerships with organizations that support diversity in the outdoors. We are a member of the Outdoors Alliance for Kids (OAK), a national strategic partnership of organizations from diverse sectors with a common interest in connecting children, youth and families with the outdoors. OAK advocates for equitable and readily available opportunities for children, youth and families to connect with the outdoors.
Other organizations we promote include Latino Outdoors, Outdoor Afro and OutThere Adventures that align over minimizing barriers and offering support to diverse communities in getting outside. Learn more about our partners and contact us if you have ideas on partnering!
In addition we aim to provide a safe and inclusive environment for all of our campers. This year our Colorado Mountain Camp Directors were featured presenters on Transgender Inclusivity at the American Camp Association Regional Conference.
They shared our framework of four key pillars that include Personal Understanding, Organizational Structure, Gender Inclusive Language & Messages, and Gender Inclusive Activities. Please see our gender support plan.
Send us your suggestions on steps you recommend Avid4 Adventure takes in supporting more kids to get outside. Let's continue the work together of redefining who the outdoors is for: EVERYONE.
Learn more about Avid4 Adventure Summer Camps: