Parents regularly tell us that one of their favorite things about our summer day and overnight camps is that we take kids to real, local, outdoor recreation areas for rock climbing, biking, hiking and water sports. After camp is over, often kids will want to bring their families and friends to these locations and teach them all the skills they've learned during the week. These locations become areas families can keep visiting to continue their outdoor adventures together. With locations across the Bay Area of California, the Front Range of Colorado, Minnesota, Oregon and Washington, we visit a lot of recreation areas.
Today we're highlighting the stunning, lush, adventure destinations we visit in Portland, Oregon, including mountain biking trails, hiking trails, rock climbing spots and paddling areas for sports like kayaking and stand up paddleboarding. So, what are you waiting for? Grab the kids, bikes, paddles, backpacks and lunch and head out to our favorite Portland, Oregon outdoor recreation areas! No matter the season, adventure awaits for your entire family.
We hope that you love these outdoor spaces as much as we do and, of course, we hope you branch out and explore, too! Let us know your favorite places to explore in Portland by commenting below!
Hiking
This is a great trail for hikers of all ages. Near the trailhead, there is ample parking. It's also very close to the city—perfect for a quick getaway anytime of the year (though the best times to visit are from May-September).
Many trails branch off in this area so there are a lot of options for adventure but make sure you check the map first and plan your route!
Dogs on leash are welcome at the trail. Also, keep in mind that there are no bathrooms at the trailhead so you'll need to plan ahead.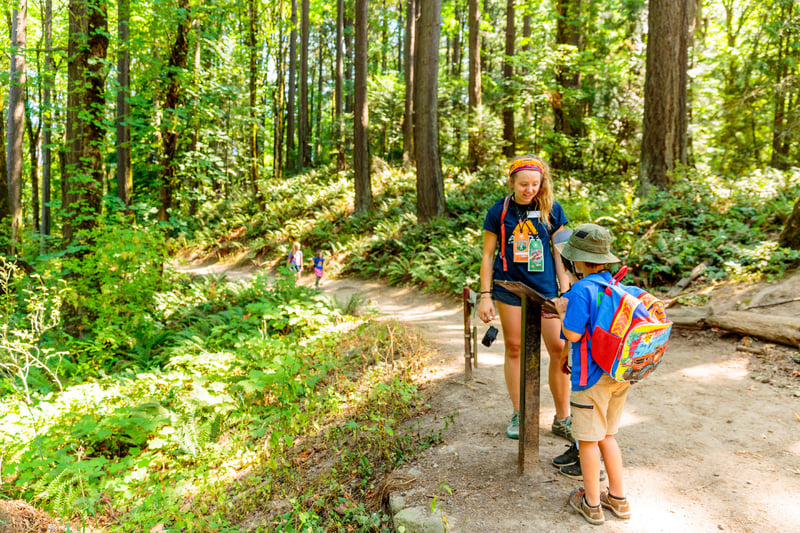 Biking
With 25 miles of multi-use trails and 6 miles of dedicated mountain biking trails (ranging from green, beginner to black diamond, expert trails), this is a perfect place for outdoor adventure. The park features 1,800 acres of abundant greenery dotted with wildflowers, rolling hills, babbling brooks and is located only 34 miles west of Portland.
The park offers many amenities including restrooms, picnic areas, year-round campsites and more. There is ample parking but day-use parking permits are required and will cost you $5.
Mountain bike trails we use include North Caddywhomper Way, Rise and Shine, Rinse and Repeat, and Shoofly. You can also easily access the beautiful Banks-Veronica Trail from LL Stub Stewart State Park and enjoy over 20 miles of mild, paved, and scenic riding.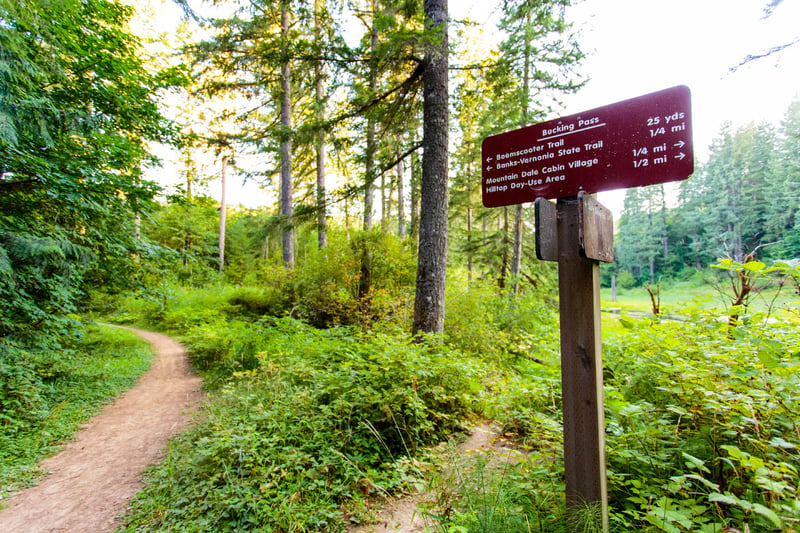 Rock Climbing
This area is known as the "outdoor gym of the greater Portland area." It is a beautiful and well shaded wall though it can get crowded on the weekends so get there early!
The crag is slightly west of the high point in the road at mile post 23.75 and is on the south side of the highway. It is the first pull off after passing Belle Center Road. You'll need to park on a wide section of paved shoulder.
Follow the narrow climber's trail from the roadside parking area. The trail gradually descends into a thick forest of fir trees. This path is thin and pretty steep so be careful with kids and take it slow. Once you get to the junction, you can continue down the path to find some great climbing spots or take a right for the Sport Wall which we use for our Day Camps.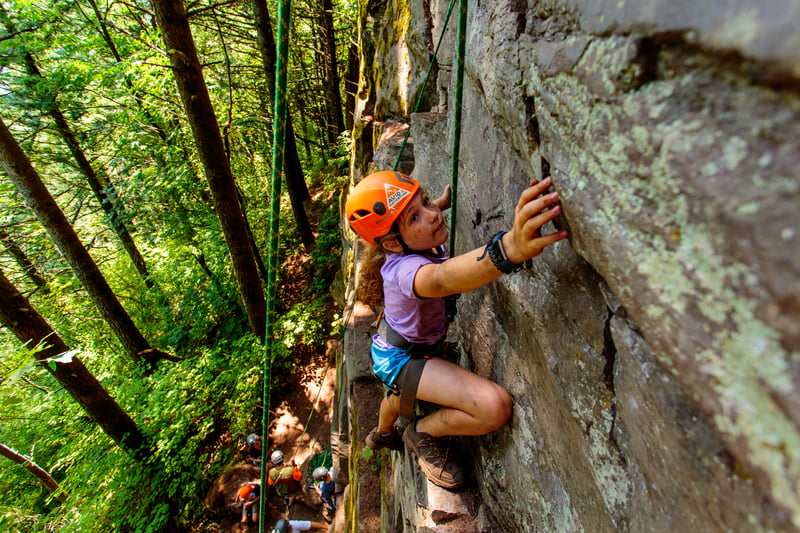 Paddling
Use the Cedar Oak boat ramp to access this calm cove away from motorized boat traffic. It's a great place to practice your paddling and jump in the water on a hot summer day!
Be careful exiting the cove with boat traffic on Willamette River.
You can also try paddling down the Willamette River toward Mary S Young Park.
We use this location for stand up paddleboarding but it's also a great place to take your kayaks!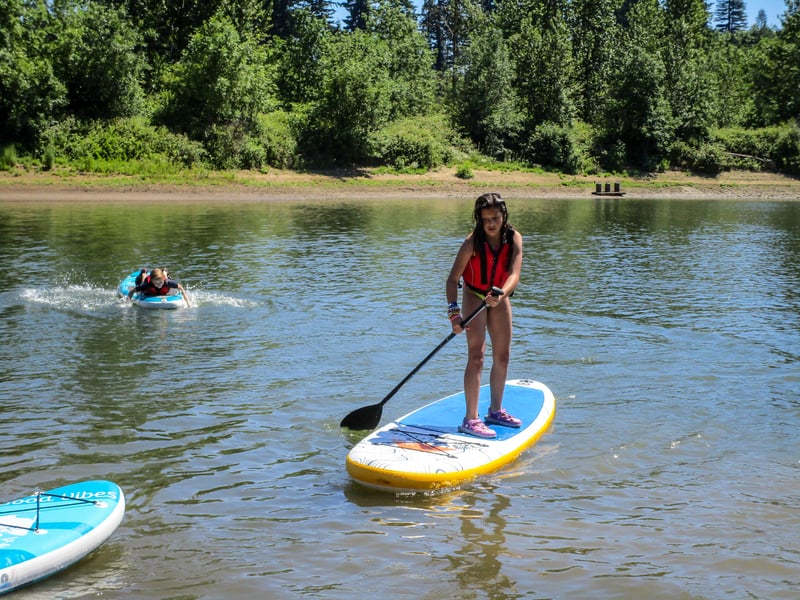 Tualatin River access at Cook Park
This location offers great access to a calm and wide section of the Tualatin River. The Tualatin River runs incredibly slow and is a great place to learn to maneuver a kayak for beginners.
While we use this area primarily for kayaking, it is also a great spot for stand up paddleboarding.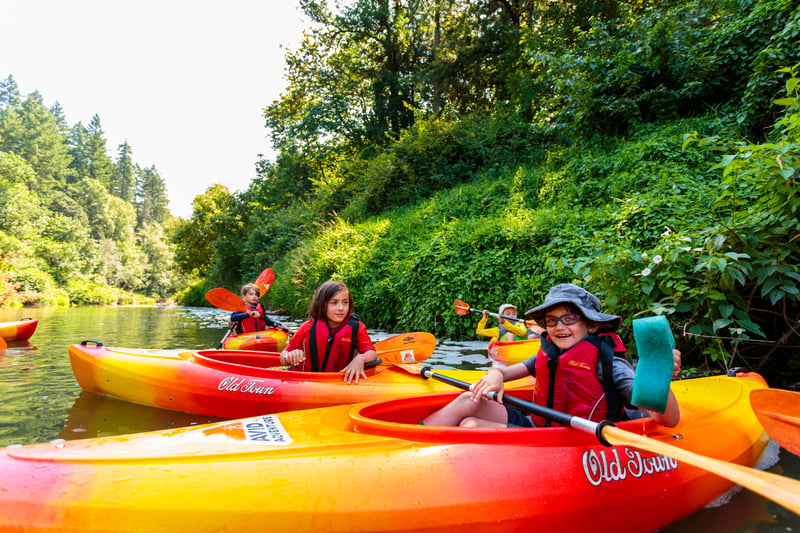 We hope you have some great adventures with your family at some of our favorite outdoor recreation areas in Portland, Oregon! To learn about our summer adventure day camps for K - 7th graders where campers will visit these areas while building confidence and skills in the great outdoors, click the link below.