A Mt. Whitney Mountaineering Adventure: Risk, Putting Our Egos Aside
Young, eager, and experienced, or so we thought, myself and two friends, Mike and Carl, started to put plans in motion for a winter ascent of the tallest mountain in the contiguous U.S., Mount Whitney. Standing at 14,505', the mountaineering route up the face of the bewitching Whitney seemed to be the perfect trip to test our skills from a NOLS trip the previous summer.
Mike, Carl, and I met during a 30-day glacial mountaineering excursion in the Waddington Range, British Columbia, Canada. The adventure was gruesome and glorious and taught us mountaineering and hiking skills to navigate mountains on our own.
We spent months reading, planning, and assessing the risks Mount Whitney presented to winter adventurers. Finally, December arrived. It was time to meet in Lone Pine, California, a local town just a few miles from the main trailhead. The town was a magnet for through hikers, mountaineers, and other outdoor dirtbags of the sort. People just like ourselves. We felt at home like we had made it as mountaineers before we even began.
The night before was a mixed bag of emotions. Excitement and anxiety led to over-analyzing every little detail. Did we have enough Velveeta Shells for dinner? How was the battery life in our headlamps? Every little question seemed to surface.
After a sleepless night in the cheapest motel in town, we packed up the Jeep and departed for the trailhead. The morning was unwelcoming with a frigid briskness. But determination took over. We were determined to conquer the mountain and to summit our first peak, officially as mountaineers.
Day One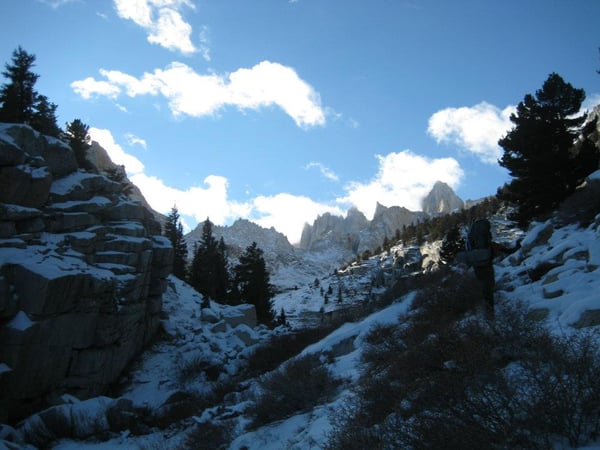 We jumped out of the Jeep onto the snow packed trail, performed a final gear check, and started our journey. The day quickly warmed up, leading to jaw-dropping views of the alpine. Our plan was to hike to Lower Boy Scout Lake to properly acclimate to the altitude. The short winter day disappeared quickly. We arrived at our campsite just before dusk and our confidence was soaring. The day was perfect. We felt invincible.
That night, we spent time sharing stories and evaluating what the next day had in store for us. We knew greater challenges awaited as we rose above treeline, but we were ready, we were fearless.
Day Two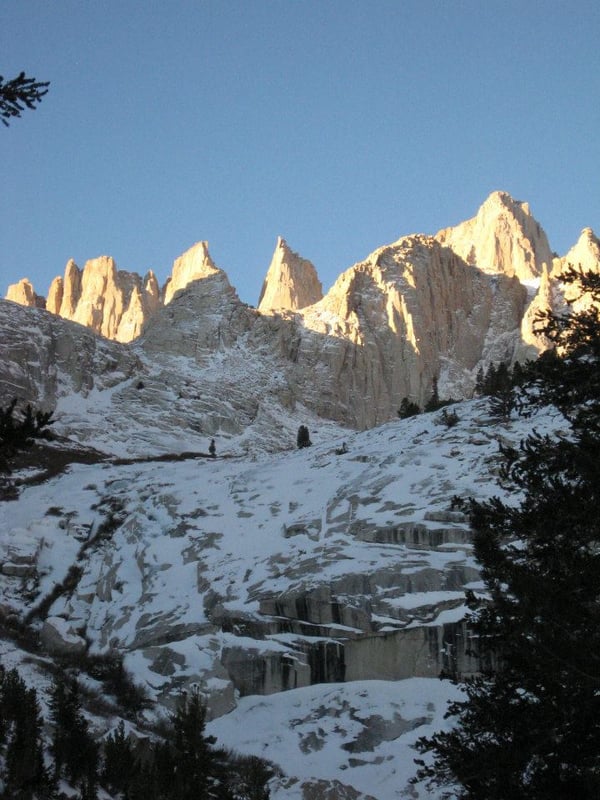 Day two started off feeling the same as day one with anticipation of big changes. We hoped to get above treeline, scramble to Upper Boy Scout Lake, drop our gear, and attack the summit via the technical Mountaineer's Notch. We had our ropes, our anchors, and our wits about us. But we quickly learned, there are some things you cannot plan for.
As we ascended the ice-covered rock scramble, crampons on, Mike and I lost sight of Carl. A little eye-squinting uncovered him at the very start of the scramble. It seemed like a great time to take a break and wait up for him. We thought little of him falling behind. The trails that appeared manageable during warm summer days presented themselves as roadblocks due to the obstacles created by ice and snow and presumed he was just having a hard time with his crampons.
An Unexpected Turn
Sitting, we noticed Carl was moving slowly and making little progress up the scramble. It was time to go back and check in on him. As we got closer, it was clear Carl was delirious. His legs were wobbly and he was losing his footing. And his words were just as unstable. What had gotten into him? Was he suffering from altitude sickness? He was an athlete and arguably the most technical mountaineer in our group of three but he had spent the past year living at sea-level. Was this his Achilles heel of this adventure?
It was imperative that we re-adjust our plans. Altitude sickness is testy, and we had yet to reach the most technical part of the climb, the Notch. Upper Boy Scout Lake was in sight so we decided to help Carl up the last haul of the scramble and drop our gear to set up camp. It was still early in the day and we knew we could reassess when we arrived.
What we thought would take five minutes to complete ended up taking closer to an hour. Our stubbornness told us Carl would be fine, but the reality of the situation told a different story. Mike and I needed to set up camp as fast as possible and settle Carl in the protection of our tent as shelter.
Mike and I pitched the tent and laid out the sleeping bags. We escorted Carl into the tent and further assessed his stability. We knew he was not up for the Notch today, but we needed to confirm he was able to sleep above 11,000'. At this point, he insisted that Mike and I continue to the top, to finish the journey without him.
A Tough Decision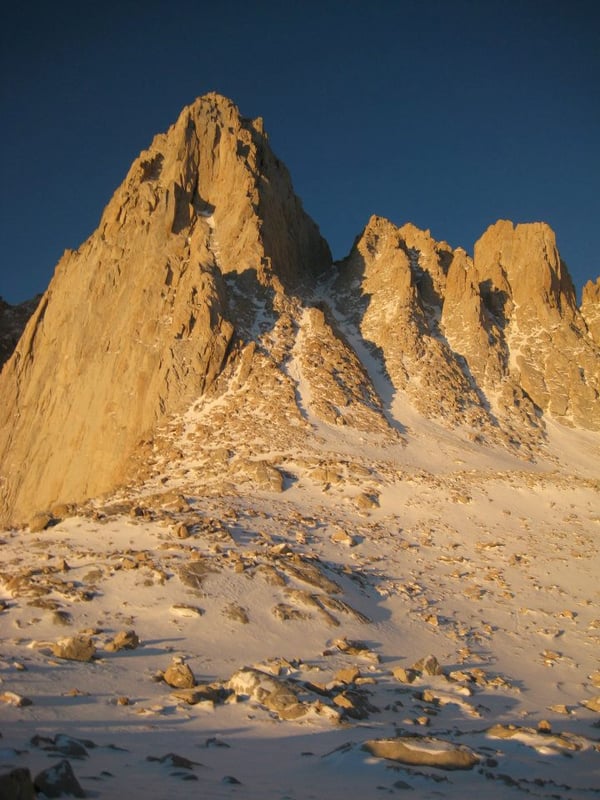 Mike and I had a tough decision that no class can prepare you for: carry on without a teammate or stay back and care for him? Ultimately, the decision to leave Carl in any state of sickness felt unsafe and wrong.
Putting our egos and enthusiasm aside, we made the tough decision to bunker down for the night with Carl and return to the car the next morning. We did exactly that, bearing the cruel wind and bitter cold of Upper Boy Scout Lake followed by an icy descent the next day. As we dropped down below treeline we found Carl gain his strength again. He was back to full strength by the time we reached our first campsite, further proving our theory of altitude sickness.
Looking Back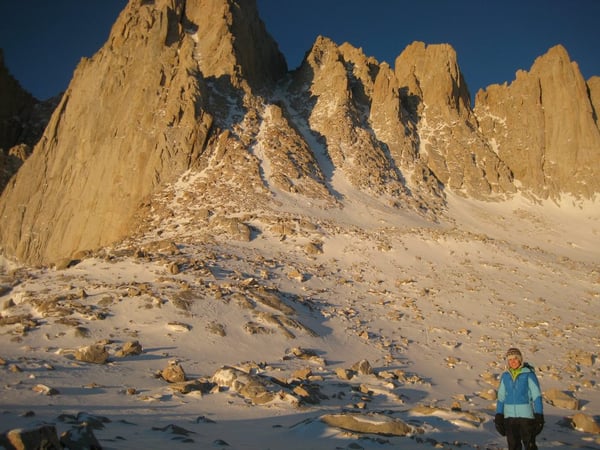 The adventure came and went in the blink of an eye. We felt like failed mountaineers in more ways than not. We failed to summit. Summiting was what mountaineers did, right? Doubt filled each of our minds. Were we able to even call ourselves mountaineers? Were we ever going to be ready to attempt another mountain? Or were we in over our heads?
It was safe to say we were not summiteers or peak baggers yet in our career, but we were mountaineers. We went on an adventure with technical aspects while consistently assessing potential risks. We came with the proper knowledge base and learned that there are some things, like a sick teammate, that you can never fully prepare for. The three of us have nothing but fond memories of the trip.
After this trip, I redefined what I consider a mountaineer and hiker. It is not someone who always makes it to the top of a mountain. Rather, it is someone who is ready to face any challenge the mountain presents them, even if the challenge forces them to turn around. It is someone who can intelligently assess risk and adjust plans as necessary.
I learned that you must challenge yourself and the mountain, but read the signs when it is time to go. Mother Nature is majestic and unforgiving. Have fun, be aware, and make smart decisions every time you are on the mountain. ∎
Author, Molly Small is an instructor at Avid4 Adventure summer camps. To find a summer camp adventure where your pre k - 12th grader will learn to confidently assess risk in outdoor sports like rock climbing, hiking, kayaking, stand up paddleboarding, mountain biking, backpacking and more in California, Colorado and Oregon, click the button below. Campers learn to assess their environment and to confidently make decisions outdoors and otherwise, skills they can take with them on future outdoor endeavors.