Do you take your natural environment for granted? At times, I know I do. I'm grateful to live in Colorado where beautiful, easily accessible outdoor recreation areas abound. It's a privilege to have grown up here and experienced the outdoors starting at a young age. However, it's easy to think that these outdoor spaces will be around to enjoy forever. With climate change and other challenges our planet is facing—the reality is—that's not for certain.
Our planet is changing rapidly and delicate ecosystems are being tipped out of balance as a result. It's important for us as individuals to be aware of our environmental impact but it is equally, if not more important, for corporations to make conscious sustainability efforts. At Avid4 Adventure, one of our core values has always been to "Live Environmentally Connected," whether it's at our summer camps, our headquarters office or in our daily lives. However, we are taking significant strides to be a more sustainable company. Ultimately it's important for us to do our part to preserve the planet and to set an example for other businesses, the kids who attend our programs, their families and all of our staff.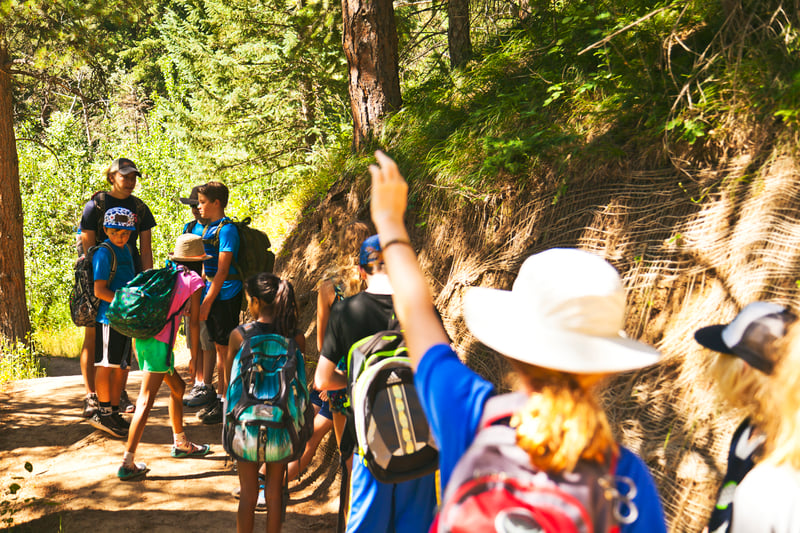 Below are some of our initiatives for being an environmentally sustainable business.
Ways Avid4 is Living Environmentally Connected
We recycle, compost and TerraCycle at all of our camp locations.

Additionally, we make efforts to educate campers on what it means to recycle and compost whether it's during a lunchtime discussion about cutting back on single-use plastics or sorting waste back at basecamp at the end of the day.

To reduce waste at our summer camps, we use refillable bottles for sunscreen, soap and hand sanitizer.

We also use reusable water bottles and reusable plastic bags when possible.

Across all of our programs, we teach campers the 7 Leave No Trace principles.

Avid4 Adventure has been a big supporter of Leave No Trace for many years. Our Overnight Camps were honored as the first Leave No Trace accredited youth program in the United States. Our Day Camps recently received this accreditation as well!
Beyond teaching these principles at camp, we also discuss with campers ways to follow them at home and to teach their friends and family members as well.

All seasonal staff are reimbursed for public transportation to and from work. Shuttles to and from work are also available in some locations.

Year-round staff receive subsidies and reimbursement for public transportation eco-passes.

At our headquarters office, there's an environmental purchasing policy.

This requires the purchase of recycled or refurbished goods when it comes to everything from copy paper and paper towels to computers and printer cartridges. It also outlines the preference for recycled goods when it comes to many other items.

Last but not least, we are excited about our latest initiative to offset carbon emissions from vans used to transport campers to outdoor recreation areas we will visit in 2020.

Thanks for your support! On November 28th and 29th, 2019, Avid4 Adventure pledged sales to offset 100% of the climate impact from vans used to transport campers.
Avid4 Adventure is a certified B Corporation and our summer camps in California, Colorado, and Oregon teach campers how to be responsible environmental stewards. Through adventure sports like kayaking, mountain biking, rock climbing, and hiking, kids learn about and gain a deeper appreciation for their natural surroundings. At Avid4 Adventure, campers are empowered to choose active, outdoor lifestyles. To learn more about our company mission and impact, click the link below.